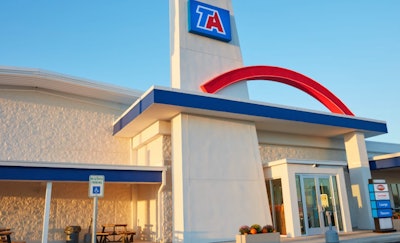 TravelCenters of America
Shareholders are scheduled to vote on the proposed sale of TravelCenters of America to BP Products North America Inc. now that a federal waiting period has elapsed.
TA today announced the 30-day waiting period imposed by the Hart-Scott-Rodino Act in connection with its pending acquisition by the major British energy corp[oration. expired at 11:59 p.m. on April 10, without action by the Federal Trade Commission.
A special meeting of TA shareholders to approve the deal is scheduled for Wednesday, May 10. TA shareholders of record as of the close of business on March 23, will be eligible to vote. Subject to shareholder approval, the transaction is expected to close by May 15, according to a statement from the travel center company.
RELATED NEWS: TA dismisses C-store chain's offer as not being superior to BP's
Under the terms of the pending transaction, BP will acquire all of the outstanding shares of TA common stock for $86 per share in cash. The transaction price represents an 84% premium to TA's average trading price of $46.68 over the 30 days that ended Feb. 15, the date the BP merger agreement was signed. The total value of the transaction is about $1.3 billion.
TA recently rejected a $1.4 billion bid by ARKO Corp. March 27, to purchase the chain of 281 travel centers.