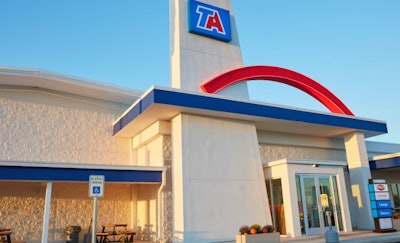 A major convenience store company offered to top a British petroleum company's offer to purchase the TravelCenters of America chain, but that offer has been soundly rebuffed.
ARKO Corp. on Monday, March 27, announced it had offered $1.4 billion for the chain of 281 travel centers, topping BP's $1.3 billion offer that TravelCenters of America accepted in February.
However, today TravelCenters of America issued a statement that said, "TravelCenters of America Inc. today confirmed that the Board of Directors previously reviewed and determined that the conditional, unsolicited and unfinanced proposal from ARKO Corp. to acquire TA is neither superior to the transaction TA previously agreed to with BP Products North America Inc. nor is it likely to lead to a superior proposal."
TA added that subject to shareholder and regulatory approval, it and BP expect to close on the sale by the middle of the year.
On Monday, the Richmond, Virginia-based convenience store chain sent a letter urging Travel Centers of America's board of directors "to seriously consider ARKO's proposal to acquire TravelCenters and engage with, rather than exclude, ARKO in the sale process." ARKO said it "believes the Board's decision regarding ARKO's proposal was incorrect and not in the best interests of TravelCenters' stockholders."
RELATED NEWS: TravelCenters of America purchased by British company for $1.3 billion
In a statement, ARKO said, "ARKO urges TravelCenters' Board to seriously consider ARKO's superior proposal to acquire TravelCenters of America. ARKO believes it is riskless to TravelCenters' stockholders for TravelCenters' Board to engage with ARKO, and that doing so could reasonably be expected to lead to a superior proposal."
TA today said, "Among the reasons the Board determined that ARKO's proposal was neither a superior proposal nor likely to lead to a superior proposal was the high level of execution risk resulting from ARKO's failure to obtain committed financing and that ARKO's sub-investment grade credit rating was not attractive to Service Properties Trust, the landlord of most of TA's properties."
ARKO owns GPM Investments, which in turn owns and operates convenience store brands including Fas Mart, Shore Stop, Scotchman, BreadBox, Young's, Li'l Cricket, Next Door Store, Village Pantry, Apple Market, Jiffi Stop, Admiral, Roadrunner Markets, Jiffy Foof Marts, E-Z Mart, 1Stop, TownStarr, ExpressShop, and Handy Mart.
The company has 3,200 locations comprised of approximately 1,400 company-operated stores, approximately 121 proprietary cardlock locations, and approximately 1,660 dealer sites to which we supply fuel. The properties are located in 34 states.
TravelCenters of America operates 280 locations in 44 states.