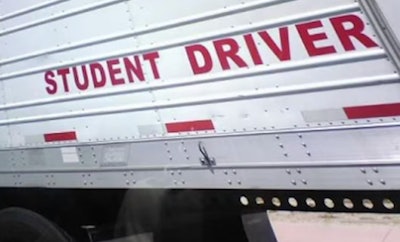 U.S. Senators Amy Klobuchar, a Democrat from Minnesota, and Mike Braun, a Republican from Indiana, reintroduced the Freedom to Invest in Tomorrow's Workforce Act, bipartisan legislation to allow Americans to use '529' education savings accounts for skills training, credentialing, and certification programs, including CDL training. Current law only permits workers and families to use '529' accounts to pay for college, university, and vocational school expenses.
"Skills training and development programs help provide people with the tools and resources they need to succeed in our economy," said Klobuchar. "By allowing workers to use their '529' educational savings to pay for additional training and certification, our bipartisan legislation will enable more Americans to access and benefit from these valuable programs."
Braun said, "Every high school student in America needs to know that you don't necessarily have to go to college to have a great career. By expanding opportunities and access to skills training programs, and letting Americans use their '529' education savings to pay for it, we can address the nationwide skills shortage and fill American jobs."
A companion bill is expected to be introduced in the House.
ATA, other organizations call for end to port talks
The American Trucking Associations joined numerous supply chain stakeholders in calling on the Biden Administration for a resolution to the ongoing West Coast port labor negotiations.
A letter sent to President Biden from 238 national, state, and local trade associations details how the situation is creating economic uncertainty, affecting freight flows, and causing shipments to be diverted away from West Coast, where import volumes recently fell to their lowest level since the 1980s.
"Given the turmoil of the past several years, what our supply chain needs to see right now is continuity. Unfortunately, these ongoing negotiations – seemingly with no end in sight – are adding yet another stress factor that is complicating our industry's ability to keep goods moving in a reliable and timely fashion," said ATA President and CEO Chris Spear. "For the sake of our country, it's time to bring these negotiations to a close."
Fast chargers installed at California truck stop
San Diego Gas & Electric Monday, March 27, unveiled four public, direct current fast chargers at a truck stop just north of the Otay Mesa Port of Entry – the first of their kind to open at a truck stop in California to serve medium and heavy-duty vehicles. The chargers are designed to provide high-power charging for trucks, delivery vans, buses and other large vehicles, and passenger cars.
Installed at Truck Net LLC, 8490 Avenida de la Fuente, near the U.S./Mexico border, the 250-kilowatt chargers can provide up to 250 miles per hour of charging for a passenger car. They can charge a typical medium-duty box truck from 20%-80% in about an hour and fully charge from empty to 100% in about two hours.
The Otay Mesa Port of Entry is the busiest commercial border crossing in California, processing nearly one million commercial trucks and five million privately owned vehicles each year.
ICYMI
Coalition forms to advance trucking industry's positions on clean energy
Expect delays on Blue Water Bridge between US and Canada come July
Bill would increase this state's speed limit to 70 mph ... finally