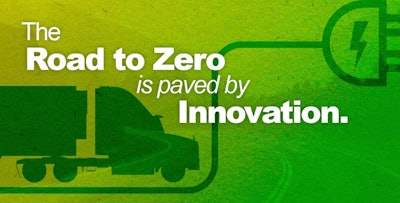 CFC
Today a group of trucking organizations launched the Clean Freight Coalition to serve as what members say will be "a collective voice on clean energy issues for trucking industry stakeholders."
Made up of motor carriers truck manufacturers, and truck dealers, a statement issued today said the CFC's mission is to:
Educate policymakers on the incredible progress the trucking industry has made in reducing emissions and protecting the environment
Promote the work underway to reduce greenhouse gas emissions from freight transportation
Advocate for sound public policies that transition toward a zero-emission future in a manner that assures affordable and reliable freight transportation and protects the nation's supply chain

The five founding members of CFC are:
Jim Mullen will serve as CFC's executive director. Mullen has regulatory, legislative, and legal experience within the industry, having previously served as acting administrator and chief counsel of the Federal Motor Carrier Safety Administration. He also was the chief administrative and legal officer of TuSimple, an autonomous truck developer, and served as general counsel for Werner Enterprises.
"Trucking is the backbone of our economy and critical to the nation's supply chain. It is an honor to lead the CFC in its pursuit to get to zero emissions in a responsible and feasible manner," said Mullen.
The creation of the organization comes as the U.S. Environmental Protection Agency announced new rules limiting emissions from heavy-duty trucks, and California announced its own, even stricter proposed standards, which mandate zero-emission trucks, including the elimination of medium- and heavy-duty trucks powered by diesel or gasoline by 2040.
A recent report in The Washington Post said the Biden Administration is leaning towards allowing California to enact its own laws on emissions.
At the same time, legislation has been introduced in the Senate to negate the rules introduced by the EPA in December.
Executives with the organizations creating the Clean Freight Coalition weighed in on the issue:
Chris Spear, president and CEO of the ATA: "The trucking industry starts with 'Yes,' as we've demonstrated through massive emission reductions over the last three decades, To get to zero, we must be honest and transparent about the road ahead. Success depends on a national energy strategy that is inclusive of our industry – the most central and critical link in the supply chain."
Laura Perrotta, president of the ATD: "America's truck dealers sell and service the newest, cleanest, and safest trucks available, Truck dealers are essential to turning over America's aging truck fleet, and with nearly half of America's trucking fleet over 10 years old, there is a lot of work this new coalition can do together to prepare the marketplace for the next generation of clean trucks."
Ryan Streblow, president of the NTTC: "The tank truck industry leans into new technologies, embracing improvements to make equipment safer for the motoring public, as well as for our environment more than ever before. Tank trucks deliver over 1/4 of all truck tonnage in North America, much of which is providing critical energy sources to all Americans. Looking ahead, we stand ready with our partners to embrace and help implement new scalable technologies and infrastructure on a timeline which is obtainable."
Jed Mandel, president of the EMA: "The U.S. commercial trucking industry is in the process of transforming. Truck and engine manufacturers are leading the way to cleaner air through investment, innovation, and engineering. EMA members are dedicating billions of R&D dollars towards a ZEV future, but those investments won't be enough on their own—we also need state and federal leaders to commit to building the essential infrastructures for those vehicles to operate nationwide. We are committed to working with policymakers to ensure a smooth and successful transition that aligns ZEV production to infrastructure availability."
Jim Ward, president of the TCA: "Truckload has long been on the road to zero—embracing new advancements in emissions-reducing technology and critical improvements to infrastructure. The key to our shared success will be in establishing a realistic timeline and multiple-solution approach that ensures productivity for drivers and reliability within the supply chain for consumers. For this to happen, we need carrier involvement in all stages of the testing process to help identify operational challenges on the ground. All modes of our industry stand ready to work together to prepare for this essential transition."