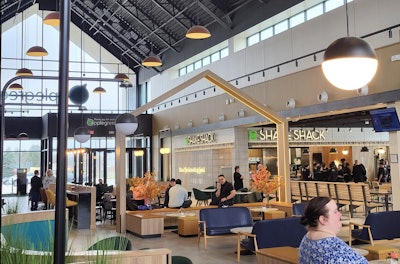 NYS Thruway Authority
The New York State Thruway Authority Tuesday, March 28, opened the new Clifton Springs Service Area (Interstate 90 eastbound, mile marker 337) in Clifton Springs, is now open to the public.
The location is the fifth new service area to open to Thruway customers as part of the $450 million project to redevelop and modernize all 27 Thruway service areas. The Iroquois Service Area, Indian Castle Service Area, Chittenango Service Area and Junius Ponds Service Area have reopened.
The Clifton Springs Service Area is located between exit 43 (Manchester) and exit 42 (Geneva). The facility is more than 20,000 square feet, making it nearly triple the size of the first three locations to open.
Restaurants include:
Shake Shack
Chick-fil-A (opening soon)
Starbucks (Drive-Thru)
Auntie Anne's (opening soon)
Applegreen Market Store
Taste NY Food and Drink Products
Other amenities include:
Playground area to open at a later date
Outdoor seating
Farm market space
Dog walking area
Climate-controlled pet enclosure to open at a later date
Digital tourism kiosk to open at a later date
Six level 3 high-speed EV chargers to open at a later date
With the opening of the Clifton Springs Service Area, the Port Byron Service Area (I-90 eastbound, mile marker 310) is now closed for construction. Fuel services remain available at all service areas during construction.
All 27 service areas are being redeveloped in a $450 million project with Empire State Thruway Partners. The project is funded through a public-private partnership and no toll or tax dollars are being used for construction.