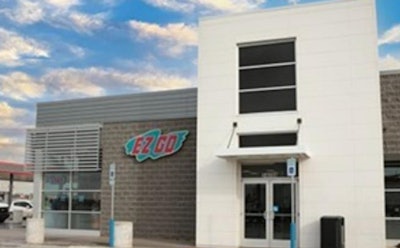 EZ GO
Love's Travel Stops & Country Stores recently completed the acquisition of the EZ GO chain from Carey Johnson Oil Co., Lawton, Oklahoma.
The purchase includes 22 stores. They are:
six truck stops located on Oklahoma turnpikes
five truck stops on the Kansas Turnpike
11 convenience stores in Oklahoma and Nebraska
This is the first time Love's footprint will include locations on a turnpike, and the purchase is part of the company's commitment to add stores in areas of high demand.
RELATED NEWS: Love's announces $1 billion plan to update 200 locations in next 5 years
The companies did not disclose the terms of the deal.
Love's expects to rebrand the EZ GO turnpike locations in the next 12 months.
The EZ GO turnpike locations include truck parking, diesel and DEF, the company said. The stores offer groceries, beverages, snacks, tobacco, gifts, fresh food, dispensed beverages, and other consumer goods.
EZ GO is co-located with several franchise food restaurants and owns and operates Back Forty Barbecue restaurants at two locations.