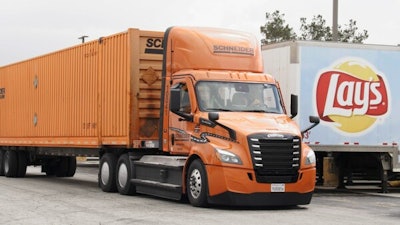 Frito-Lay North America recently announced its first-ever third-party shipment on an electric vehicle with Schneider National Inc. This is the first third-party transportation shipment on an electric vehicle for PepsiCo globally and establishes FLNA and its snack products as the first to contract transport on Schneider's electric truck fleet of Freightliner eCascadias.
According to a statement from Frito-Lay, an emissions reduction of more than 70 percent is expected this year from the initial EV routes, versus the same shipments on diesel trucks. Initial shipments on Schneider's growing Freightliner eCascadia fleet will be intermodal inbound and outbound dray moves in southern California, including service to Frito-Lay's Rancho Cucamonga distribution center.
"As we roll out our fleet of almost 100 new battery electric trucks, we're thrilled to offer a cleaner mode of freight transportation to valued customers like Frito-Lay, who share our goal of operating in ways that are environmentally responsible," said Rob Reich, executive vice president and chief administrative officer, Schneider. "For decades, we have been committed to improving sustainability at Schneider, and we're proud to now be able to positively impact our customers' operations as well."
RELATED NEWS: Watch as Tesla delivers its first Semi truck to PepsiCo
Within its company-owned fleet, Frito-Lay is also making significant advancements. Among them is the recent transformation of one of Frito-Lay's largest manufacturing facilities, located in Modesto, Calif., as the first to implement site-wide alternative fuel vehicles. To serve the company's hometown market of Dallas-Fort Worth, Frito-Lay also introduced 40 100% electric, zero-emissions route trucks in 2022.
Ascent honored by John Deere
Ascent, a global logistics company based in Belleville, Michigan, recently earned recognition for 2022 in the John Deere Cost Reduction Opportunities Process (JD CROP).
JD CROP, a supplier suggestion process, is part of Deere & Company's Achieving Excellence program. Ascent received the honor for providing cost-reduction ideas of outstanding quality and for demonstrating a commitment to continuous improvement. Company employees accepted the recognition during formal ceremonies held on April 11 in Moline, Illinois.
Ascent is a supplier of unplanned, time-critical logistics to support Deere & Company's inbound JIT supply chain across North America. Ascent previously received a Supplier Innovation award in 2015, was named a John Deere Supplier of the Year in 2016, received Hall of Fame recognition in 2019, and has earned recognition as a Partner-Level Supplier for eight consecutive years.
"We are honored to have earned recognition in the JD CROP from our long-term customer, Deere & Company," remarked Chris Jamroz, Executive Chairman of the Board for Ascent. "We are constantly driven to find and implement paths to mitigate risk and reduce cost, all while remaining committed to working aggressively to identify essential cost-down projects as the industry works to return to more normalized operations."
Suppliers who participate in the Achieving Excellence program are evaluated annually in several key performance categories, including quality, delivery, process alignment, value creation, and relationship. John Deere Supply Management created the program in 1991 to provide a supplier evaluation and feedback process that promotes continuous improvement.
ICYMI
Driver Poll: What are you most worried about right now?
New to driving? Not been inspected? Insider offers Roadcheck advice
Safety agency once again takes up mandating side underride guards