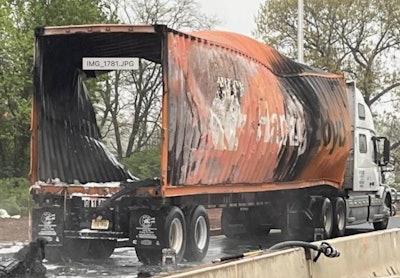 Union Fire Department
No injuries were reported when a boat being transported in a container on a tractor-trailer caught fire and exploded.
The incident took place Monday morning on eastbound Route 22 in Union, New Jersey about seven miles south of Newark.
Reports about the first said one of the doors on the container was blown off with such force that it landed about 150 yards away.
The tractor-trailer was headed to Elizabeth, New Jersey.
Authorities continue their investigation of the fire and explosion.
Driver hits I-90 overpass and uncovers marijuana
An accident on the New York State Thruway Monday led to the discovery of 750 pounds of marijuana stashed in the load on a tractor-trailer.
The driver of the truck notified the Fredonia Police Department that their trailer struck an overpass. While in a Walmart parking lot, the trucker climbed atop the trailer to inspect the damage and saw several large packages of marijuana. He notified the police, who inspected the trailer and found the marijuana.
While inspecting the trailer, the truck's driver cut his hand and was taken to a healthcare facility for treatment.
The Southern Tier Regional Drug Task Force and the Drug Enforcement Agency were contacted and assisted by the Chautauqua County Sheriff's Department.
Fredonia is located in western New York about 45 miles northeast of Erie, Pennsylvania.
ICYMI
New to driving? Not been inspected? Insider offers Roadcheck advice
Privacy a top concern for truckers' dislike of driver-facing cameras
Fit For The Road: 2 clinics aimed at truckers to open in GA & TN