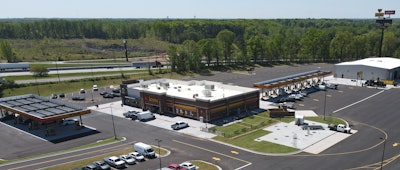 Love's Travel Spots
Love's Travel Stops opened a new location in Piedmont, South Carolina Thursday, April 13.
The new travel stop, located off Interstate 85 at 1805 Easley Highway, about 12 miles south of Greenville, includes 91 truck parking spaces
The location is open 24/7 and offers:
Hardee's (opening April 17)
Nine diesel bays
Seven showers
Laundry facilities
CAT scales
Fresh Kitchen concept
Mobile to Go Zone with the latest GPS, headsets, and smartphone accessories.
Dog park.
Speedco (opening May 1).
"Love's is excited to grow again in South Carolina, providing another clean, safe place for customers to enjoy our Highway Hospitality," said Shane Wharton, president of Love's. "Our 13th location in the state continues Love's commitment to giving customers the friendly service they need and getting them back on the road quickly."
Love's recently announced a $1 billion plan to upgrade 200 of its existing locations in the next five years, and open 25 new stores this year. The Oklahoma City-based company also recently purchased a chain of truck stops and convenience stores located in Oklahoma and Kansas.