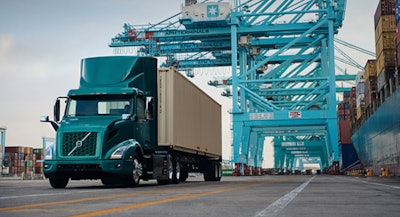 Volvo
NFI, a major third-party supply chain solutions provider, said recently it is expanding its fleet of Class 8 battery-electric trucks in Southern California as part of the Joint Electric Truck Scaling Initiative (JETSI) project.
Under the project, which is designed to show that fleets can successfully scale their BET fleets, NFI will operate 30 Freightliner eCascadias and 20 Volvo VNR Electric trucks from its Ontario, California, warehouse facility to support its dedicated port drayage services for customers spanning from manufacturing to retail.
NFI said it has taken delivery of the first 15 of its Class 8 BETs funded through the project, with the remaining ordered trucks set to be delivered by the end of June 2023. By the end of this year, NFI said it will have 100 Class 8 battery-electric trucks dedicated to port drayage.
Fleets honored for security, loss prevention efforts
The American Trucking Associations' Transportation Security Council recently recognized several fleets for their commitment to trucking industry security and loss prevention efforts at the group's annual meeting earlier this month.
"The winners were recognized at ATA's 2023 Safety, Security & Human Resources National Conference & Exhibition in Minneapolis, Minnesota.They include:
ATA Excellence in Security: Old Dominion Freight Line, Thomasville, North Carolina
ATA Excellence in Claims & Loss Prevention: Less-than-Truckload Carrier: ABF Freight Systems, Fort Smith, Arkansas
ATA Excellence in Claims & Loss Prevention: Truckload Carrier: M&W Transportation, Nashville, Tennessee.
"Trucking is an industry that has a responsibility to keep the public and our customers safe, a responsibility that these companies take very seriously," said TSC Executive Director Jacob Pierce. "Having a strong commitment to security – whether it's preventing theft or preventing crime and terrorism is an important charge for our industry and these carriers have shown tremendous dedication it."
ICYMI
Love's announces $1 billion plan to update 200 locations in next 5 years
Driver Poll: Do you lease or own your own trailer?
Over 24,000 Freightliners recalled for hazard warning light problem