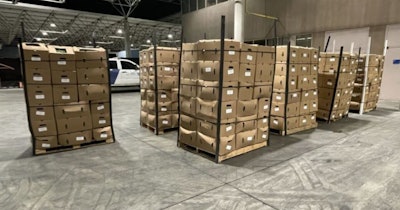 U.S. Customs and Border Protection
Federal law enforcement officials intercepted two major shipments of narcotics recently, one in California and the other in Texas.
U.S. Customs and Border Protection officers at the Otay Mesa, California port of entry intercepted 3,520,000 fentanyl pills concealed within a shipment of green beans, worth an estimated street value of $21,120,000.
On Monday, at about 7:21 p.m., CBP officers encountered a 48-year-old male driver of a tractor-trailer, loaded with green beans. During an initial inspection, a CBP officer referred the load for an intensive agriculture inspection.
A non-intrusive inspection was utilized to conduct a full scan of the tractor-trailer, according to a statement from the agency. After examination, irregularities were observed and CBP officers requested a narcotic detector dog, who alerted CBP officers to the presence of narcotics.
CBP officers discovered and extracted a total of 308 packages concealed in the shipment of green beans. The narcotics were tested and identified as fentanyl pills with a total weight of 776.03 pounds.
The driver was detained for the alleged narcotic smuggling attempt and was turned over to the custody of U.S. Immigration and Customs Enforcement.
CBP officers seized the tractor, trailer, and narcotics.
Cocaine seized at Texas crossing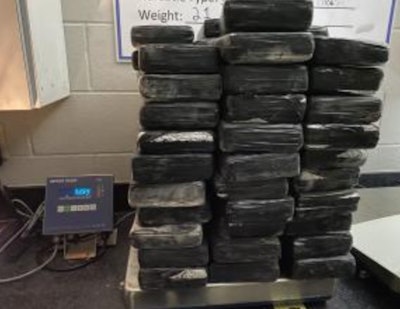 The Customs and Border Protection officers at the Del Rio, California Port of Entry last week seized cocaine that totaled over $2.1 million.
The seizure occurred on the evening of Wednesday, April 12 at the Del Rio International Bridge, when officers assigned to cargo selected a tractor-trailer transporting a shipment of rocks into the United States, for a non-intrusive inspection. Upon further examination, including canine, and non-intrusive inspection systems, CBP officers discovered 63 packages containing a total of 163 pounds of cocaine hidden in the floor of the flatbed trailer.
CBP seized the narcotics. The case was turned over to Homeland Security Investigations (HSI) special agents for further investigation.