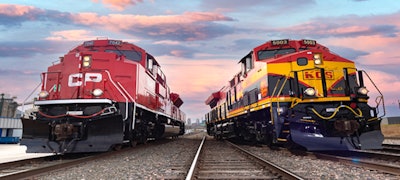 CPKC
Canadian Pacific Kansas City railroad and Knight-Swift Transportation Holdings Inc. earlier this week announced a new multi-year agreement to provide truckload intermodal transportation service on CPKC's new single-line north-south corridor connecting Mexico, the United States, and Canada.
"Our agreement with the CPKC will provide another differentiated solution for our customers and their over-arching supply chains," said Adam Miller, Knight-Swift Transportation CFO and Swift president. "The Knight-Swift team is looking forward to engaging with the CPKC railroad on service offerings, customer solution design and demand planning to help facilitate growth on the first single-line railroad connecting Mexico, the United States, and Canada. Our Transmex team and growing LTL offering will also benefit from the newly created railroad and will allow us to continue supporting our customers in new and different ways by providing thoughtful solutions with a solid underlying service product."
The deal between CPKC and Knight-Swift is the second between the newly formed railroad company and a major American trucking company. On April 21, Schneider National announced it would switch its Mexico-U.S. intermodal traffic to CPKC.
Knight-Swift's established Mexico customer base will be able to leverage CPKC's broad network of rail lines, terminals, and cross-border efficiency and expertise to improve service reliability and competitiveness, according to a statement from CPKC.
CPKC's International Railroad Bridge over the Rio Grande River at the U.S.-Mexico border at Laredo, Texas, offers a reliable alternative to congested highway ports of entry. A second span to expand the bridge's capacity and further increase the efficiency of cross-border train movements is currently under construction and expected to be completed by the end of 2024.
Averitt employees give 10,000 hours of community service
Averitt Express associates combined to give more than 10,000 hours of community service over the course of 2022 as part of its Team Up Community Challenge. Overall, they served 10,433 hours, with 95 facilities across Averitt's system helping 223 organizations through efforts including clothing, food, and toy drives, disaster relief, litter cleanups, and blood donations.
In recognition of those hours, as well as associate milestones and accomplishments, Averitt made a matching contribution of $750,000 to Averitt Cares for Kids, the company's employee-giving program.
"The Team Up Community Challenge is an important tradition for our team, and I'm very proud of how our associates stepped up to make a difference in our communities during 2022," said Gary Sasser, Averitt's chairman and chief executive officer. "I'm proud of the commitment our associates have to serving in our communities, and I'm even more excited about the potential we have to make a difference throughout our network in the future."
The Team Up Community Challenge is a year-round program through which associates at each facility across Averitt's network are encouraged to participate in various charitable initiatives.
Together, the Team Up Community Challenge and Averitt Cares for Kids make up Averitt Charities. The mission of Averitt Charities is to help those in need through a partnership between associates and the company that gives back to the communities Averitt serves.
ICYMI
Delicious dozen: Flock Freight offers list of top places for roadside eats
Traffic fatalities down slightly in 2022; agency says deaths a 'national crisis'
C.R. England, Kodiak Robotics partner to deliver for Tyson Foods in Texas