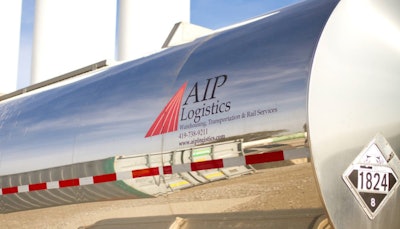 Calgary, Alberta, Canada-based Trimac Transportation recently acquired American Industrial Partners Logistics (AIP Logistics).
The central Ohio-based company provides bulk terminal services, transportation, and warehousing for the plastics, liquid chemical, food-grade storage, and metal production industries. AIP operates with a fleet of 13 tractors and 119 trailers. The company's 52-acre property, located in Wapakoneta, Ohio, is home to cold, dry, and food-grade warehousing, bulk transloading, and storage with access to CSX Transportation rail line, and dry van, reefer, dry bulk, and bulk liquid transportation that serves customers worldwide, according to a statement from Trimac.
The location has indoor rail access and 70 railcar spots for rail transloading and storage.The property is strategically positioned on the busy I75 corridor, halfway between Cincinnati, and the North American most commercially used US/Canada land crossing of Detroit-Windsor, with proximity to several industrial customers, which is key in enabling truckline and bulk transload growth for Trimac.
In a statement, Trimac said the acquisition aligns with Trimac's strategy to expand trucking and adjacent services in the US.
"We are excited about this next step in our US growth," said Matt Faure, president & CEO at Trimac. "We look forward to connecting our most recent acquisition of AIP Logistics with superior service with safety. The integration with a leading logistics company such as AIP will place Trimac in an excellent position for its continued growth and contribution to business partners and communities in this region."
Founded in 1982 by Charles Kantner, AIP was originally known as Riverside Storage, offering basic warehousing for dry food ingredients. Today, AIP employs a staff to service over 450,000 square feet of storage space, a transportation fleet, and a rail terminal that serves customers worldwide. Kantner will stay on for a transitional period immediately to provide expertise.
Currently, API's business is made up of about 38% trucking, 42% warehousing, and 20% transloading/other.
Trimac said the acquisition is a continued step in its five-year strategy to further position itself as a leader in bulk transportation, wash, and maintenance.