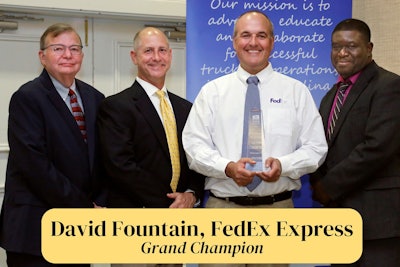 Drivers from fleets around the state competed in nine classes at the 2023 South Carolina Truck Driving Championships held recently in Columbia.
The drivers competed in three areas: written test, pre-trip inspection and road course.
The Grand Champion, awarded to the overall high scorer in the championships, went to David Fountain, FedEx Express.
The William C. "Curly" Hallford Team Award, given to the company whose drivers average the highest total points, was won by the team from Old Dominion Freight Lines with drivers Kevin Smith, Kenneth Smith, Trent Currin, David Eggert, Cole Howard and Blake Taylor.
The Vehicle Condition Award, awarded to the high scorer in the "Pre-Trip Inspection" competition, was given to Stephen Hyde, FedEx Freight.
The G. M. "Scott" Murray Knowledge of the Industry Award, given to the high scorer on the written knowledge test, went to David Eggert, Old Dominion Freight Lines.
The Rookie of the Year Award, for the overall highest scoring first-time participant, was won by Richard Britton, FedEx Freight
Winners in the various categories included:
Straight Truck – Dubby Freeman, FedEx Ground
Three Axle – David Fountain, FedEx Express
Four Axle – Kenneth Smith, Old Dominion Freight Lines
Five Axle Flatbed – James Cook, TCW
Five Axle Sleeper – Richard McCoy, ADUSA - Food Lion
Five Axle Tank – Bennie Yearty, TCW
Five Axle Twins – Blake Taylor, Old Dominion Freight Lines
Five Axle Van – JB Quarles, Wal-Mart Stores
Step Van – Zach Welch, FedEx Ground
All first place winners earned the chance to compete at American Trucking Associations' National Truck Driving Championships in Columbus, Ohio in August.