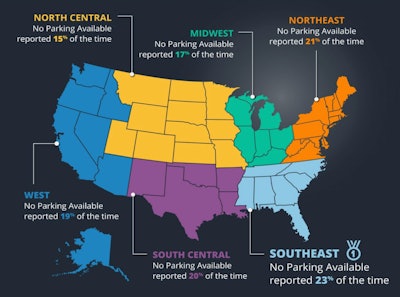 The eastern portion of the U.S. -- from Maine to Florida -- is the place truckers are least likely to find adequate parking.
That's the topline finding of new data from the Trucker Path navigation app.
According to Trucker Path, "Every time a truck driver enters one of Trucker Path's 20,000 geofenced parking locations, they are asked: Are there many, some, or no parking spaces available?"
The app divided the country into six regions and compiled data on which regions had the highest percentage of "No spaces available" responses.
The regions and the amount of time there were no truck parking spaces available include:
Southeast, 23% of the time
Northeast, 21% of the time
South Central, 20% of the time
West, 19% of the time
Midwest, 17% of the time
North Central, 15% of the time
On the other hand, the individual locations with the highest percentage of "There are many" parking spaces available were:
In the Northeast, the TA in Milesburg, Pennsylvania
In the Southeast, Discount Truck Parking in Orlando, Florida
In the Midwest, a rest area on County Road 62 in Auburn, Indiana
In the South Central, the Gateway Travel Plaza in Vidro, Texas
In the Central, the TA Beto Junction in Lebo, Kansas
In the West, the Petro in Wells, Nevada
Trucker Patch said it has about 1 million users.