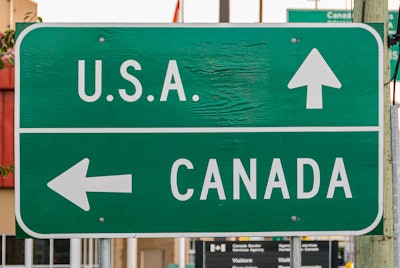 Ian Dewar Photography / Shutterstock.com
COVID vaccination restrictions on travelers -- including truckers -- entering the U.S. will be ended next week.
The U.S. Department of Homeland Security announced it will be removing border vaccine requirements impacting all non-U.S. citizens entering the country as of May 12.
The DHS said: "Beginning May 12, 2023, DHS will no longer require non-U.S. travelers entering the United States via land ports of entry and ferry terminals to be fully vaccinated against COVID-19 and provide related proof of vaccination upon request. DHS intends to rescind these Title 19 travel restrictions in alignment with the end of the Public Health Emergency and the termination of the Presidential Proclamation on air travel."
This is in line with changes to COVID restrictions announced this week by the White House.
The vaccination requirement was a source of contention for Canadian truckers for much of the pandemic.
A White House Monday said, "Today, we are announcing that the Administration will end the COVID-19 vaccine requirements for Federal employees, Federal contractors, and international air travelers at the end of the day on May 11, the same day that the COVID-19 public health emergency ends. Additionally, HHS and DHS announced today that they will start the process to end their vaccination requirements for Head Start educators, CMS-certified healthcare facilities, and certain noncitizens at the land border."
Large Cars & Guitars happens this weekend
The Lage Cars & Guitars Truck Show will be held Thursday through Saturday at Smokies Stadium in Kodak Tennessee.
In addition to the truck show, the event features a variety of musical performers Friday afternoon and Saturday evening.
Friday's performers include:
4 p.m. - Taylor Barker
5 p.m.- Long Haul Paul
6 p.m. - Elvis
7:15 PM - Robbie Hopkins
8:30 p.m. to 9:30 p.m. - Fire On The Mountain Light Show
9:30 p.m. William Michael Morgan
Saturday's lineup includes:
5:30 p.m. - Steven Molanders
7 p.m. - Aaron Tippin
8:30 p.m. to 9:30 p.m. - Fire On The Mountain Light Show
9:30 p.m. - Tony Justice
11 p.m. - Fireworks
Proceeds from the event go to the Susan G. Komen Breast Cancer Foundation.
Smokies Stadium is located just off Interstate 40 and about 20 miles east of Knoxville.
ICYMI
2 major eastern trucking events scheduled for next week
30 tractor-trailers part of I-55 pileup Monday that killed 6, injured over 30
ABF Freight driver honored for actions when another truck crashes