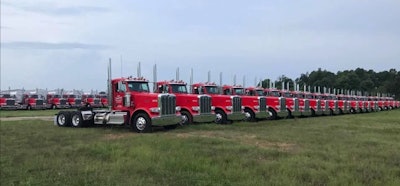 Lew Thompson & Son
Tennessee-based Covenant Logistics Group last week completed the purchase of Lew Thompson & Son, a Huntsville, Arkansas poultry hauler.
Terms of the deal included $100 million plus an amount of up to $30 million depending on the results of the business over the next three years.
With some 225 trucks, Lew Thompson & Son specializes in hauling both live poultry and feed.
"We pursued this acquisition because it aligns with our strategic plan of becoming a nicher well-diversified service provider in a market that is less sensitive to typical freight cycles," Covenaant's CFO Tripp Grant said on the company's Q1 earnings call April 28.
Kodiak adds self-driving technology to battery-electric Peterbilt
Kodiak Robotics, Inc., a self-driving trucking company, today introduced the first-ever autonomous electric class 8 truck.
Kodiak is upfitting a Peterbilt Model 579EV electric truck with the Kodiak Driver, the company's self-driving technology. The truck will be incorporated into Kodiak's fleet in 2024.
The Peterbilt Model 579EV truck is the second vehicle platform that Kodiak is upfitting and it is equipped with its fifth-generation sensors. Kodiak's autonomous system is vehicle- and powertrain-agnostic, which enables the company to easily incorporate its autonomous system into emerging truck platforms as they become available, regardless of fuel type, according to a statement from Kodiak.
The Peterbilt Model 579EV can be recharged in as little as three hours and provides a peak power rating of 670 horsepower. With a range of up to 150 miles, the truck is designed for short-haul and drayage deployments.
ICYMI
30 tractor-trailers part of I-55 pileup Monday that killed 6, injured over 30
FMCSA forms 9-member task force to study truck leasing agreements
Autonomous truck tech company Waabi creates driver advisory panel