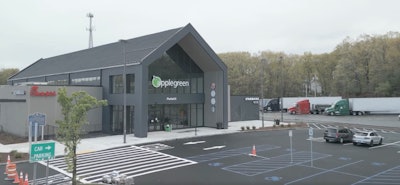 NYS Thruway Authority
The New York State Thruway Authority recently announced the new Plattekill Service Area on Interstate 87 northbound at mile marker 65 in Plattekill, is now open to the public.
The location is the sixth new service area to open to Thruway customers as part of the $450 million project to redevelop and modernize all 27 Thruway service areas. The Clifton Springs, Iroquois, Indian Castle, Chittenango and Junius Ponds Service Areas have already opened.
The facility has more than 20,000 square feet, making it one of the largest buildings constructed as part of the redevelopment project. The location is the first new service area to open in the Hudson Valley.
Restaurant options include:
Burger King
Chick-fil-A
Starbucks (Drive-Thru)
Panera Bread (opening soon)
Auntie Anne's (opening soon)
Applegreen Market Store
Taste NY Food and Drink Products
Other amenities include:
Playground*
Outdoor seating
Farm market space
Dog walking area
Climate-controlled pet enclosure*
Six level 3 high-speed EV chargers *
*Not currently operational - Available at a later date
All 27 service areas are being redeveloped in a $450 million project with Empire State Thruway Partners. The project is funded through a public-private partnership and no toll dollars or tax dollars are being used for construction.
Landstar names its Rookie of the Year
A Georgia driver has been named Landstar's Rookie of the Year.
LeVar Ramsay, owner of the Landstar agency, Gorilla Freight, LLC, in Loganville, Georgia, was honored recently during a company event. Before becoming a Landstar agent, he owned a small trucking company and was the founder and CEO of a telecommunications company. He generated nearly $6 million in revenue within his first year as a Landstar agent.
Recipients of the Rookie of the Year award must be part of the Landstar network for less than two years, demonstrate outstanding revenue performance, and encompass excellence in customer service. Nominees for the 2022 award opened an independent Landstar agency between July 1, 2021, and June 30, 2022.
"LeVar's entrepreneurial spirit, experience, and professionalism as a new independent Landstar agent earned him the 2022 Rookie of the Year award," said Landstar President and CEO Jim Gattoni. "In less than a year, LeVar's freight agency has demonstrated outstanding growth and revenue performance."
ICYMI
'Operation Overload' leads to bust of $150 million cargo theft ring in CA
Online registration open for 40th annual ShellRotella SuperRigs contest
Driver Poll: Do you think that technology has made the trucking industry safer?