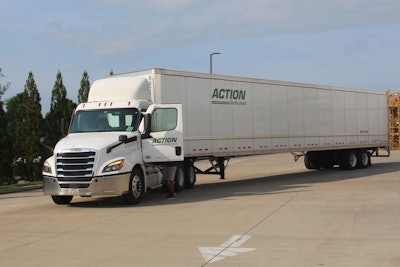 P&S Transportation LLC, a PS Logistics subsidiary, announced Monday it has purchased all substantial transportation assets of Action Dedicated LLC and Action Dedicated II LLC, a subsidiary of Action Resources LLC that specializes in dedicated transportation in the Southeastern United States. Financial terms of the transaction were not disclosed.
Headquartered in Birmingham, Alabama, Action Dedicated maintains a fleet of 120 drivers and 364 trailers and primarily hauls automotive components for blue-chip customers. The transaction will further strengthen and diversify P&S's existing dedicated operations while also enhancing the services provided to existing and future customers within PS Logistics' freight network.
"We are proud to welcome Action Dedicated to the PS Logistics family," said Scott Smith, chief executive officer and co-founder, PS Logistics. "We look forward to working with its strong leadership team and upstanding drivers while also continuing to deliver best-in-class service to its customers."
The acquisition will provide Action Dedicated, its customers, and its drivers with expanded capacity, new service offerings and increased economies of scale.
Action Dedicated will be managed by David McKinley as a separate division of P&S. Action Dedicated will continue to operate under the same name.
"We believe P&S will be a great successor and steward for the Action Dedicated business," said Staci Pierce, chief executive officer of Action Enterprise Holdings. "We are pleased for Action Dedicated to be acquired by another 'driver-first' company as we continue our heightened focus on the growth of our specialty chemical and waste, environmental, and logistics platforms."
The Action Dedicated acquisition continues PS Logistics' acquisition strategy of partnering with driver-focused companies that complement existing service offerings. Since 2016, PS Logistics has successfully acquired 27 trucking and brokerage operations.
Trucker Path holds appreciation sweepstakes
The multi-purpose app Trucker Path is sponsoring its second annual National Truck Driver Appreciation Sweepstakes.
The NTDA Sweepstakes will hold weekly drawings for four weeks (from July 26 to Aug. 16), revealing the grand prize winner on Sept. 13 during National Truck Driver Appreciation Week.
The NTDA Sweepstakes is open for registration beginning July 17 for active U.S. truck drivers with a valid commercial driver's license. Truckers interested in entering the 2023 NTDA Sweepstakes can click here.
The weekly prizes include $500 in Sheetz fuel cards and five free nights at any Motel 6 in the U.S. The grand prize winner will receive $3,000 in Sheetz fuel cards, 30 free nights at any Motel 6 in the U.S., and $500 in Exxon and Mobil station fuel cards.
National Truck Driver Appreciation Week runs from Sept. 10-16.
Love's graduates 300th diesel technician
Love's Truck Care and Speedco recently celebrated the milestone of 300 diesel technicians graduating from Love's Truck Care Academy since the training program launched in April 2022. The curriculum combines classroom instruction with hands-on experience in seven heavy-duty truck systems.
Love's said in a statement its Truck Care Academy is the only accelerated diesel technician training program of its kind for beginners. Employees who complete the program are given a tool set valued at $3,500 and are eligible to earn a commission for mechanical work on top of their hourly pay and an annual productivity bonus.
For their training, candidates travel to one of two Love's Truck Care Academies in Amarillo, Texas, or El Reno, Oklahoma. Two more training facilities are set to open in Arizona and Indiana in the coming months.
Anyone interested in the training programs at Love's Truck Care and Speedco can apply at jobs.loves.com. More information about Love's Truck Care Academy and the Diesel Technician Apprenticeship can be found at jobs.loves.com and at loves.com/en/truck-services/truck-care-academy.
ICYMI
Retirement: Not a choice for many drivers; a lot say they can't afford it
Both drivers, passenger die in head-on collision of 2 tractor-trailers in Oregon
Driver Poll: Have you experienced wage increases in your trucking job in the past year?