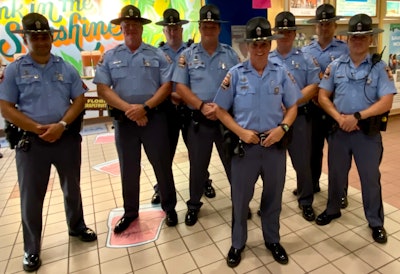 Florida DOT
On the heels of a recently concluded nationwide traffic law enforcement campaign, two regional ones are in the works this week.
Troopers in six states are engaged in an effort. to enforce "Move Over" laws, while officers in five states are involved in a week-long speed limit enforcement effort.
Member agencies that are part of the 6-State Trooper Project are focusing on Move Over violations. The initiative began on Sunday, July 16, and continues through Saturday, July 22 at 11:59 p.m.
The high-visibility enforcement initiative includes the Indiana State Police, Kentucky State Police, Michigan State Police, Pennsylvania State Police, West Virginia State Police, and the Ohio State Highway Patrol.
In general, Move Over laws require all drivers to move over to an adjacent lane when approaching any vehicle with flashing or rotating lights parked on the roadside. If moving over is not possible due to traffic or weather conditions, or because a second lane does not exist, motorists should slow down and proceed with caution. A version of the Move Over law exists in all 50 states.
State police in Florida, Alabama, Georgia, South Carolina, and Tennessee this week are engaged in Operation Southern Slow Down. The speed limit enforcement effort is conducted in conjunction with the National Highway Traffic Safety Administration.
Operation Southern Slow Down continues through Saturday, July 22.
A statement from the Florida Highway Patrol said the campaign will focus on detecting and citing drivers for ignoring the posted speed limits, with the overall aim of illuminating and reducing the prevalence of this risky behavior.
Both regional enforcement efforts follow closely last week's Operation Safe Driver Week. Sponsored by the Commercial Vehicle Safety Alliance, the week-long campaign targeted bad driving behavior by commercial vehicle operators and other motorists in the U.S., Canada, and Mexico.