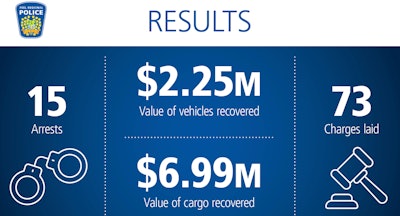 Peel Regional Police
Police in Canada Wednesday announced the results of a months-long major cargo theft investigation in the greater Toronto area.
Peel Regional Police said its Project Big Rig resulted in:
Total of 15 arrests with 73 charges laid
Recovery of $6,990,000.00 of stolen cargo
Recovery of $2,250,000.00 in value of stolen tractor-trailers
Total value of $9,240,000.00 in property recovered
Police say the stolen cargo included food, ATVs, and snowmobiles. They also recovered 28 stolen tractor-trailers, many of which were stolen when thieves cut through fences at logistics facilities.
A total of 15 people face 73 charges as a result of the police effort.
"Cargo and auto theft is not a victimless crime. It hurts people, inflicts financial harm and often leads to the funding of other criminal activity," said Peel Regional Police Deputy Chief Nick Milinovich. "Project Big Rig is an example of our efforts to hold the individuals accountable who victimize our communities and residents. Let this be a reminder to all the criminal networks that we will continue to disrupt criminality of any kind."
PRP has arrested and charged the following 15 individuals in connection with Project Big Rig:
Balkar Singh, 42 years old, is charged with:
Possession of Property Obtained by Crime
Ajay Ajay, 26 years old, is charged with:
Possession of Property Obtained by Crime
Manjeet Padda, 40 years old, is charged with:
Possession of Property Obtained by Crime
Jagjeevan Singh, 25 years old, is charged with:
Possession of Property Obtained by Crime (x2)
Breach of Recognizance (x2)
Amandeep Baidwan, 41 years old, is charged with:
Possession of Property Obtained by Crime (x4)
Fail to Comply with Release Order
Breach of Probation
Karamshand Singh, 58 years old, is charged with:
Possession of Property Obtained by Crime
Trafficking in Stolen Goods
Jasvinder Atwal, 45 years old, is charged with:
Possession of Property Obtained by Crime
Fail to Comply with Release Order (x2)
Operation While Prohibited
Lakhvir Singh, 45 years old, is charged with:
Possession of Property Obtained by Crime
Mischief Over $5000
Jagpal Singh, 34 years old, is charged with the following offences:
Break, Enter and Commit an Indictable Offence (x2)
Theft of Motor Vehicle
Theft Over $5000
Upkaran Sandhu, 31 years old, is charged with the following offences:
Break, Enter and Commit an Indictable Offence
Possession of Property Obtained by Crime
Sukhvinder Singh, 44 years old, is charged with the following offences:
Possession of Property Obtained by Crime (x2)
Fail to Comply with Undertaking (x2)
Kulvir Bains, 39 years old, is charged with the following offences:
Theft of Motor Vehicle (x3)
Theft Over $5000 (x3)
Banishidar Lalsaran, 39 years old, is charged with the following offences:
Theft of Motor Vehicle (x2)
Shobit Verma, 23 years old, is charged with the following offences:
Sukhninder Dhillon, 34 years old, is charged with:
Break and Enter Commit an Indictable Offence
Theft of Motor Vehicle (x4)
Theft Over $5000 (x4)
Possession of Property Obtained by Crime
Theft of Mail
Operation while Prohibited (x2)
Fail to Comply with Release Order