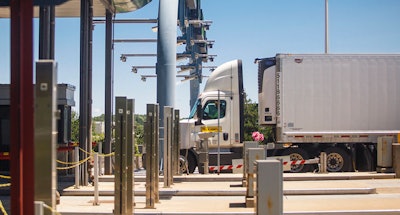 Pennsylvania Turnpike Commission
Truckers traveling the Pennsylvania Turnpike will have to pay higher tolls starting early next year.
The Pennsylvania Turnpike Commission earlier this week approved a 5% increase in tolls. This marks the 16th consecutive year the commission has raised rates on the 530 miles of the highway. The new higher rates take effect at 12:01 a.m. Jan. 7, 2024.
The most-common toll for what the turnpike commission considers a Class-5 tractor-trailer will increase from $14.40 to $15.20 for E-ZPass and from $29.40 to $30.90 for Toll By Plate.
The turnpike commission said the most-common toll for a passenger vehicle will increase from $1.80 to $1.90 for E-ZPass customers and from $4.40 to $4.70 for Toll By Plate customers.
"As in previous years, the PTC is obligated to raise rates annually as part of its legislative mandate to provide PennDOT supplemental funding for transit systems around the state as outlined by Act 44 of 2007," said the turnpike's CEO Mark Compton. "While these payments were once $450 million a year, they have been reduced to $50 million annually. However, our organization had to borrow to make those payments, which total nearly $8 billion."
Owner of Transervice acquires Lily Transportation
ZS Fund L.P., a private equity firm and majority owner of Transervice Logistics, Inc., recently announced it has acquired Lily Transportation Corp., a Needham, Massachusetts-based dedicated contract carriage company.
A statement from ZS Fund said the transaction increases the scale of services and resources that Transervice and Lily bring to the marketplace. Combined, the companies have over 1,750 drivers and over 185 locations in North America. Transervice has 650 drivers and Lily has 1,100.
Transervice and Lily will continue to operate as separate companies. Each will retain their independent corporate names and separate field and management teams, according to ZS Fund's statement.
Gregg Nierenberg, president and CEO of Transervice, will also serve as president and CEO of Lily. Alex Lafaras, executive vice president and chief financial officer of Transervice, will assume the same role for Lily.
ICYMI
Despite challenges, trucking revenue, tonnage, employment all grew in 2022
Drivers Poll: How satisfied are you in your current role?
These are the folks who took home trophies from Truckers Jamboree