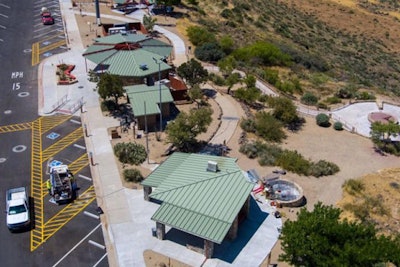 Arizona DOT
A major rest area on Interstate 17 in Arizona has reopened following numerous upgrades including expanded truck parking.
The Sunset Point Rest Area is open after the Arizona Department of Transportation upgraded its restrooms, water and septic systems, truck parking, and other amenities. It was closed to most traffic in late 2022 for the project.
Sunset Point is located along I-17 at mile marker 252 between Black Canyon City and Cordes Junction north of Phoenix.
To enhance capacity and accessibility, the $7.5 million project included renovating and reopening the original restroom building that had been closed since the new restroom building opened in 2010, said ADOT.
There were also improvements to signage, sidewalks, lighting, and landscaping, along with renovated ramadas. Restrooms have new or upgraded lighting fixtures, doors, sinks, hand dryers, and more.
The project also renovated the rest area's sundial memorial, which honors ADOT employees who have died while serving the state of Arizona.
Sunset Point Rest Area serves more than a million visitors a year, according to ADOT.
Because of Sunset Point's popularity and location, ADOT offered a temporary I-17 rest area nearby at Badger Springs Road throughout the renovation. The Badger Springs temporary site will now be closed. Sunset Point also was open to commercial vehicle traffic, with limited services, during the renovation.