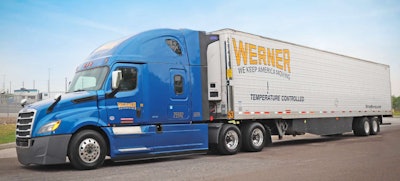 Werner Enterprises
Werner Enterprises today announced its plans for National Truck Driver Appreciation Week, which is Sept.10-16.
"National Truck Driver Appreciation Week is a great way to pay our respects and thank professional drivers for undertaking one of our economy's most demanding and critical jobs," said Werner's Chairman, President and CEO Derek Leathers. "These individuals are a shining example of greatness as they deliver goods safely and on time, and we strive to do everything in our power to recognize their extraordinary accomplishments."
RELATED NEWS: Businesses offering National Truck Driver Appreciation Week specials
Werner will kick off its celebrations today and tomorrow at its terminals in Lake City, Florida; West Memphis, Arkansas; and Dallas. Thursday and Friday, Sept. 7 and 8, will include stops in Springfield, Ohio; Lehigh Valley, Pennsylvania; Swansea, Massachusetts; and Joliet, Illinois. The following week will continue with visits to other select terminals and dedicated sites across Werner's network. On Friday, Sept. 15, a live remote broadcast of Road Dog Trucking News will air from 1 p.m. to 3 p.m. CDT on SiriusXM channel 146.
"We are proud to support our professional drivers and show them how much we appreciate their resilience and dedication to our company and country," said Werner's Executive Vice President and Chief Operating Officer, Eric Downing. "Our commitment to professional drivers is reflected in our industry-leading safety programs, modern fleet of trucks and trailers, innovative driver-focused technology, and competitive pay and benefits."