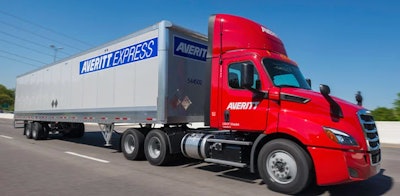 Averitt Express
Averitt Express has been named a 2023 Top 100 3PL Provider by Inbound Logistics magazine. The list serves as an assessment of service providers the publication's editorial team feels are best equipped to meet and surpass its audience's evolving outsourcing needs.
Each year, the team examines submitted data, conducts personal interviews and online research, and aligns this information with supply chain and logistics challenges faced by readers before choosing the best providers.
"World-class 3PLs offer innovative and efficient ways to wring every ounce of productivity from enterprise operations," said Felecia Stratton, editor of Inbound Logistics. "Inbound Logistics is pleased to recognize Averitt Express as a 2023 Top 100 3PL Provider for making the investment in the solutions and expertise that empowered transportation excellence for customers in 2023."
"Being recognized by one of the foremost leaders in transportation and logistics news is a true honor," said Averitt President and Chief Operating Officer Barry Blakely. "Our associates' commitment to excellence makes it possible to help shippers overcome their challenges and meet their goals."
Maverik acquires Kum & Go and Solar Transport
Maverik – Adventure's First Stop, together with its parent company, FJ Management, recently completed the acquisition of Kum & Go and Solar Transport from Krause Group. The closing of this transaction creates a convenience store network across the Midwest and Rocky Mountain regions, growing Maverik's footprint to over 800 stores in 20 states with about 14,000 employees.
"We are excited to welcome Kum & Go and Solar Transport Team Members to Maverik," said Chuck Maggelet, CEO and chief adventure guide of Maverik. "Together, we'll offer our customers an adventurous and differentiated convenience store experience across fuel, food service, and inside-store offerings. We look forward to using our combined resources to grow our business and further elevate our product offerings to provide the best service to our customers."
In appreciation of Maverik's Des Moines-based team and the local community, Maverik will donate $50,000 to the Des Moines Public Schools Foundation. As a longstanding supporter of helping fight hunger in its local communities, Maverik's donation will provide fresh fruits, vegetables, and toiletries at Des Moines Public Schools 53 food pantries in schools across the district.
Chuck Maggelet will lead the newly combined organization.
ICYMI
Driver Poll: Are trucking companies doing enough to support drivers' mental health?
Nominations open for Best Fleets to Drive For contest through Oct. 31
Transition Trucking award has 17 semi-finalists; winner named Dec. 16