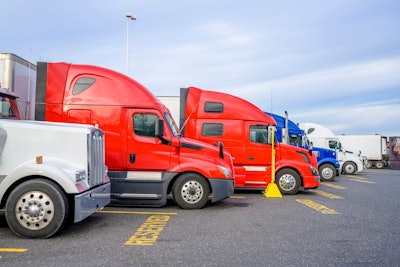 A coalition of trucking and related organizations Monday asked the leaders of the House to approve legislation that would increase trucking parking.
The 24 organizations led by the Owner-Operator Independent Drivers Association asked House Speaker Kevin McCarthy and Democratic Leader Hakeem Jeffries to act on H.R. 2367, the Truck Parking Safety Improvement Act, this fall. The bill was reported out of the House Committee on Transportation and Infrastructure in May.
They said the bill addresses what the organizations said is an "important safety issue that affects America's professional truck drivers, the trucking industry, the American public, and the national supply chain."
H.R. 2367 includes $755 million over three years to construct truck parking spots, which must be accessible free of charge.
An online poll by Truckers News in August found 51% of respondents said they constantly encounter problems finding parking.
The letter said, "Expanding truck parking capacity will provide additional safe places for the nation's truck drivers to stop and rest, as they deliver America's economy and keep the supply chain moving. When truck drivers park in unsafe or unauthorized areas, including highway shoulders and off-ramps, or continue to drive in violation of federal hours-of-service regulations or beyond the point where they feel comfortable because they can't find parking, it jeopardizes the safety of truck drivers and the general public, leading to congestion, accidents, and other hazardous scenarios."
The groups' letter said passing the Truck Parking Safety Improvement Act will have far-reaching benefits including:
Improved driver well-being
Better driver recruitment and retention
Maximizes federal dollars
Enhanced highway safety
Economic prosperity
Reduced roadway congestion
"Truck drivers and their partners in the shipping industry are the backbone of our nation's economy, ensuring the efficient delivery of goods that sustain our everyday lives," the letter said. "The reliability of our supply chain depends on them, and it is imperative that we prioritize their safety and well-being. The Truck Parking Safety Improvement Act represents a crucial step towards achieving this goal."
The organizations said the truck parking legislation "represents a balanced, practical, and effective solution to a long-standing problem that affects the trucking industry, the driving public, and American businesses and consumers. Passage of H.R. 2367 will demonstrate Congress is capable of passing critical bipartisan legislation that will improve the lives of professional drivers, the safety and well-being of our citizens, and the efficiency of our supply chain."
Adding their names to the letter were:
Owner-Operator Independent Drivers Association
Retail Industry Leaders Association
Mid-West Truckers Association
North American Punjabi Trucking Association
American Apparel & Footwear Association
Truckload Carriers Association
American Highway Users Alliance
National Association of Small Trucking Companies
National Association of Truck Stop Operators
Western States Trucking Association
Transportation Intermediaries Association
Commercial Vehicle Safety Alliance
Institute for Safer Trucking
American Trucking Associations
Association of Food Industries
American Chemistry Council
Women In Trucking
Consumer Brands Association
Road Safe America
Agriculture Transportation Coalition
U.S. Chamber of Commerce
Food Industry Association
International Brotherhood of Teamsters
National Motorists Association