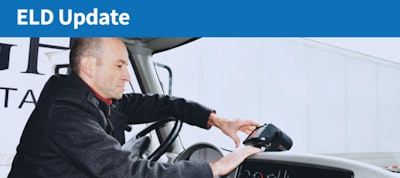 FMCSA
The Federal Motor Carrier Safety Administration has removed the FALCON ELD and the KSK ELD from the list of registered Electronic Logging Devices (ELD).
FMCSA has placed these ELDs on the Revoked Devices list due to the providers' failure to meet the minimum requirements established in 49 CFR part 395, subpart B, appendix A, effective Sept. 14, 2023.
FMCSA will send an industry email to inform motor carriers that all who use these revoked ELDs must take the following steps:
Discontinue using the revoked ELDs and revert to paper logs or logging software to record required hours of service data
Replace the revoked ELDs with compliant ELDs from the Registered Devices list before Nov. 13
Motor carriers have up to 60 days to replace the revoked ELDs with compliant ELDs. If the ELD providers correct all identified deficiencies, FMCSA will place the ELDs back on the list of registered devices and inform the industry and the field.
During this time, safety officials are encouraged not to cite drivers using the revoked ELDs for 395.8(a)(1) – "No record of duty status" or 395.22(a) – "Failing to use a registered ELD." During this time, safety officials should request the driver's paper logs, logging software, or use the ELD display as a back-up method to review the hours of service data.
Beginning Nov. 13, motor carriers who continue to use the revoked devices listed above will be considered to be operating without an ELD. Safety officials who encounter a driver using a revoked device on or after November 13, 2023 should cite 395.8(a)(1), and place the driver out-of-service (OOS) in accordance with the Commercial Vehicle Safety Alliance (CVSA) OOS Criteria.
FMCSA strongly encourages motor carriers to take the actions listed above now to avoid compliance issues in the event that the deficiencies are not addressed in time.
17-year-old steals truck and then a trailer
A New Hampshire juvenile was recently arrested in New Hampshire for stealing a truck and trailer.
Vermont State Police were notified that a truck had been stolen on Sept. 12 in Lebanon, New Hampshire. The driver of the truck then drove to a location in St. Albans, Vermont, hooked it to a trailer, and drove off.
Police eventually found the rig at a rest area on southbound Interstate 89 in Waterbury, and took the 17-year-old driver into custody.
The suspect faces charges of grand larceny, possession of stolen property, and aggravated operating without owner's consent.
The investigation continues.
Sheetz extends diesel discount
Sheetz, the Mid-Atlantic restaurant and convenience chain, today announced it will extend the discount on diesel to celebrate Truck Driver Appreciation Week has been extended for the rest of the month. The original discount reduced the price of diesel by 35 cents per gallon.
In addition, Sheetz has also decreased its diesel exhaust fluid prices to 99 cents a gallon at the pump.
Other trucker weekly deals include:
Sept. 15-21 - Mix and match any (2) 20 oz sodas for $2 with any purchase
Sept. 22-30 - Earn 500 bonus loyalty points with any purchase
Oct.1-7 - Purchase any two Powerades for $3
ICYMI
Survey finds which states lead the country for road rage incidents
Southeastern Freight Lines opens new service center in New Orleans
Peterbilt celebrates 100,000th Model 389 rolling out of Texas facility