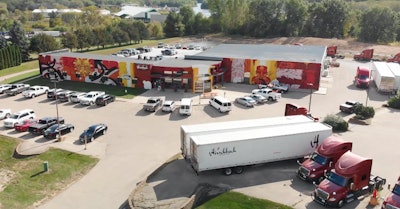 Hirschbach Motor Lines
Hirschbach Motor Lines, a trucking company based out of Dubuque, Iowa, has won the 2022 Gold Carrier of the Year award from The Chemours Company due to their "excellence in the transportation of Ti-Pure titanium dioxide to Chemours customers."
This is the second consecutive year that Hirschbach Motor Lines has won the award and they are one of the few companies to receive the award from Chemours.
"On behalf of everyone at Hirschbach, we are honored to have been awarded Chemours Gold Carrier of the Year for the second consecutive year," said Hirschbach Motor Lines CEOs Brad Pinchuk & Richard Stocking in a statement from the company. "We're proud of this accomplishment and are committed to becoming an even more valued partner in the years to come."
Also cited in this award was the company's success with transparent communication, another one of the company's key values. Hirschbach's focus on communication has been well received by their customers and was one of the key factors in Hirschbach's winning the award. For Hirschbach, open and honest communication is one of their key focuses when it comes to business and that focus is paying off now, according to the company's statement.
Founded in 1935, Hirschbach Motor Lines has a fleet of 3,000+ trucks and 5,000+ trailers, multiple terminal locations, and continues to expand into new service areas.