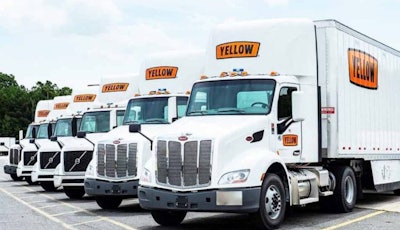 YELLOW CORP.
The union representing thousands of drivers formerly employed by the Yellow Corp. is calling for an investigation of the company's bankruptcy filing.
The Teamsters Tuesday, Sept. 19, issued a statement asking the Senate to investigate Yellow's bankruptcy. The union's request came after a special Senate Judiciary Committee hearing on Chapter 11 bankruptcy procedures.
During that hearing, Sen. Amy Klobuchar, a Democrat from Minnesota, cited Yellow as an example of problems with current bankruptcy laws. Yellow filed for Chapter 11 bankruptcy Aug. 6 after ceasing operations in late July.
"After a company files for Chapter 11, employees risk losing their livelihoods, health benefits, and pensions through no fault of their own. These are things that workers have worked hard for and have earned," Klobuchar said. "This issue has become relevant to my state because just last month, Yellow Corp., one of the largest LTL carriers in the country, filed for bankruptcy. This bankruptcy jeopardizes the livelihood and health benefits of many hardworking Minnesotans, including 480 Minnesota Teamsters."
RELATED NEWS: Survey: 72% of drivers say Yellow's closing impacted their mental health
The Teamsters called on Senators Dick Durbin and Bernie Sanders to hold hearings before the Senate Committee on the Judiciary and the Health, Education, Labor, and Pensions Committee to look into Yellow's bankruptcy.
"Workers in this country need real protections against corporations who game the system," said Teamsters General President Sean M. O'Brien. "We need real reform now that puts workers first in this process."
Two major LTL carriers have made offers to purchase Yellow's 169 terminals around the county. Just last week Estes Express Lines increased its bid for Yellow's real estate to $1.525, besting Old Dominion Freight Lines' $1.5 billion bid. The sale of Yellow's 12,000 trucks and 35,000 trailers has been approved by the federal bankruptcy court.
The Teamsters and Yellow have blamed each other for the company's demise. The union said the company was mismanaged and failed to make payments for employee pensions and health care benefits. Yellow said the union's failure to go along with its restructuring caused its financial problems.