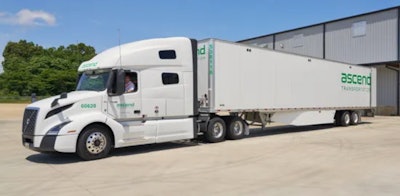 Ascend Transportation
Ascend Transportation, a dedicated and Southeast regional carrier, has named transportation veteran Mike Cafarelli as its new president.
A statement from the company said Carafelli "brings a reputation of excellence and superior results to the role accumulated over his 30-plus years of experience leading successful transportation organizations with a focus on delivering outstanding service, building strategic relationships to solve transportation challenges, and creating great driving jobs."
Carafelli most recently served as the president at The Dart Network. He also held various leadership roles at Swift Transportation, CRST, Central Refrigerated, and CR England. He has an MBA in accounting from the University of Phoenix and a bachelor's of science in sociology from Southern Utah University.
"I'm honored to take on this new leadership role at Ascend, the organization is well positioned for continued growth through acquisitions and further expansion of our private fleet and dedicated operations," said Cafarelli. "Ascend has been able to grow and expand operations by solving complex transportation challenges for their customers with innovative solutions and our strong driver base."
Ascend provides logistics services in coordination with its affiliates Ascend LLC, Ascend Transportation LLC, Ascend Trucking LLC, Dedicated Transportation Solutions, Fuchs Trucking, and Ascend Distribution LLC. The company has asset-based operations in the South, Mid-Atlantic, and Midwest, with density and capacity in important regional areas where there is high demand for high-performance short-haul shipping,