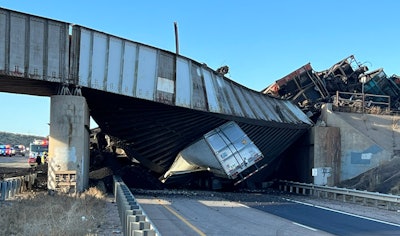 Colorado State Patrol
A broken rail appears to have caused the derailment of a freight train that led to the collapse of a bridge that killed a truck driver in Colorado Sunday.
Investigators from the National Transportation Safety Board made the announcement of its preliminary assessment this morning.
Interstate 25 near Pueblo remains closed as debris cannot be cleared until the NTSB completes its investigation. Numerous cars of the BNSF freight train were carrying coal when they derailed on a bridge over the interstate. The derailment caused the bridge to collapse on a tractor-trailer beneath it killing the driver.
The Denver Post reports the Pueblo County Coroner's Office identified the truck driver killed in the crash as Lafollette Henderson, 60, of Compton, California.
The derailed train cars spilled tons of coal across the interstate.
The NTSB's investigation could take several more days, and the cleanup of the spilled coal and collapsed bridge could take several more.
The incident occurred at about 3:30 p.m. Sunday.
The NTSB's complete report could take as much as two years to complete, according to the agency.