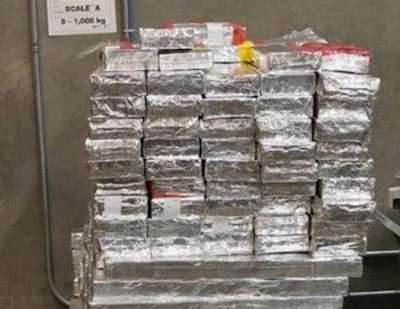 Customs and Border Protection
A truck driver was charged last week when he was found to be in possession of over 1,200 pounds of cocaine valued at more than $10 million when crossing the border from Mexico into Arizona.
On Oct. 13, Oswaldo Lopez-Escobar, was charged following an Oct. 5, complaint for possession with intent to distribute cocaine.
The complaint alleges that, on Oct. 4, Lopez-Escobar, was driving a semi-truck and applied for admission into the U.S. from Mexico at the Mariposa Port of Entry in Nogales, Arizona. During a customs inspection of the vehicle, officers with the Customs and Border Protection agency found 155 packages of cocaine concealed in the floor of the trailer. The packages had a total weight of about 1294.2 pounds, with an estimated value of between $10.7 and $12.5 million.
A conviction for possession with intent to distribute cocaine carries a maximum penalty of up to life in prison with a mandatory minimum term of 10 years in prison, a fine of $10,000,000, or both; and a term of between five years and lifetime supervised release.
The United States Attorney's Office, District of Arizona, Tucson, is handling the prosecution.