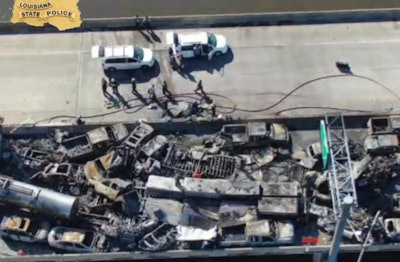 Louisiana State Police
Officials in Louisana report an eighth person died as the result of injuries sustained during Monday's massive pileup on Interstate 55 in St. John the Baptist Parish near New Orleans.
At least 63 others were injured in a series of collisions caused by a combination of what officials called "super fog" and smoke from a nearby wildfire. A total of 163 vehicles, including at least 18 tractor-trailers, were involved in the mishaps that occurred Monday morning.
The accidents closed I-55 in both directions until today.
RELATED NEWS: At least 18 tractor-trailers were involved in huge Louisiana pileup
The Louisiana Department of Transportation and Development this morning announced that I-55 southbound was expected to reopen at about 10 a.m. The interstate will be reduced to one lane near the crash site for the time being. DOTD inspectors and consultants have completed the inspection of I-55 southbound after Monday's accident and have determined that the roadway is safe for travel.
I-55 northbound remains closed. Inspections on the northbound side are still ongoing and there is no timeline for when it will reopen.