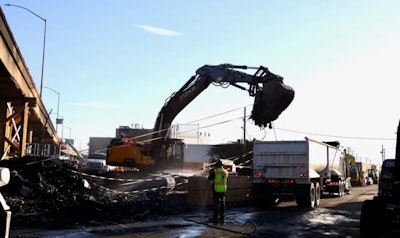 CalTrans
Officials in California Tuesday said it will take three to five weeks to repair and reopen the section of Interstate 10 near downtown Los Angeles damaged by fire Saturday, Nov. 11.
They also said it was determined the eight-acre fire that started in storage areas under the highway overpass was deliberately set by an arsonist.
"After testing samples and assessing damage from the site, state transportation officials currently believe the damage can be repaired without demolishing and rebuilding the 450-foot span of the 10 Freeway, which could have taken upwards of six months," said a statement from Gov. Gavin Newsome's office. "Union crews are working 24 hours a day, seven days a week to finish removing the extensive debris and shore up the pillars. These efforts are aimed at making the necessary repairs to safely reopen the freeway to moving traffic as soon as possible."
The fire, which started shortly after midnight, damaged 100 pillars that support the highway, which normally carries more than 300,000 vehicles a day. Some 160 firefighters from 26 divisions fought the blaze that destroyed two storage areas filled with wooden pallets as well as numerous vehicles. Those pillars are 3 feet in diameter and 16 feet tall.
City officials asked motorists to stick to the sanctioned detours on the city's interstates, but many have taken to the city's surface streets to get around the closed section of the I-10. Mayor Karen Bass Tuesday said city streets looked like parking lots. More police officers have been added to direct traffic. The city's fire chief said the traffic snarls are causing delays for emergency vehicles.
Gov. Newsome said that by the end of the week, the state will have a livestream of the construction work so the public can see the progress firsthand. Californians and others can visit Fixthe10.ca.gov for real-time project updates, alternate routes, and public transit options, according to the governor's office.