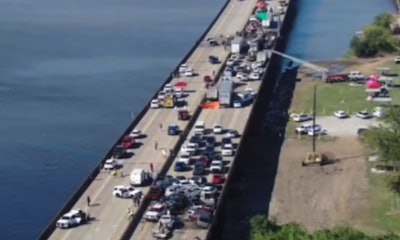 Louisiana State Police
The section of Interstate 55 in Louisiana that had been closed following a massive pileup three weeks ago was fully reopened earlier this week.
The Louisiana Department of Transportation and Development said the northbound lanes reopened Monday morning, Nov. 13. after extensive repairs were made.
The incident that caused the closing and needed repairs occurred in the morning of Oct. 23 when what officials called "super fog" combined with smoke from nearby wildfires to decrease visibility on I-55 in St. John the Baptist Parish near New Orleans. Some 163 vehicles including a reported 18 tractor-trailers were involved in a massive pileup that claimed the lives of eight people and sent scores more to local hospitals.
Numerous vehicles were destroyed by fire in the collision. Those fires were responsible for some of the damage to the highway.
Hauliday Giveaway back at Pilot Flying J
Pilot Flying J is bringing holiday cheer to professional drivers and other travelers with its Make the Miles Merry campaign. To celebrate the holiday season, Pilot Flying J is bringing back its annual 'Hauliday Giveaway' and more ways to save on every drive.
Shoppers looking for last-minute and unique gifts will find an array of popular toys, tech gadgets, cozy blankets and travel gear, clothing, tchotchkes and the exclusive Pilot Flying J holiday elf. Available for a limited time are Pilot Flying J's seasonal coffees.
Adding to the festivities is Pilot Flying J's 'Hauliday Giveaway,' providing drivers 12 days to win great prizes, including Bluetooth headsets, truck gear, gift cards and more exclusive items. Beginning on Dec. 4, comment on each day's post through the Pilot Flying J Facebook page for a chance to enter and win. Winners will be notified on each day's post.
Professional drivers can earn up to four points per gallon of commercial diesel through the PushForPoints program in myRewards Plus app. Points earned may be redeemed on holiday gifts, food, beverages, coffee, gear and more.
ICYMI
Driver Poll: What are companies doing with drivers in the 65-70 year age range?
Seat belt problem leads to recall of over 3,800 Kenworth trucks
Survey: Public has positive outlook about truckers and what they do