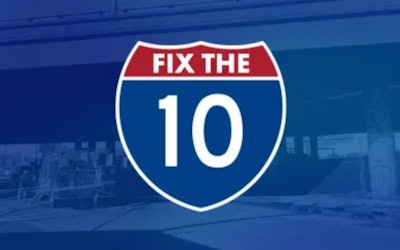 California Department of Transportation
California officials have revised their estimates of when the section of Interstate 10 in Los Angeles damaged by a massive fire last weekend will reopen.
Gov. Gavin Newsome Thursday said the two-mile long section of the interstate in downtown LA will reopen Tuesday, Nov. 21 well ahead of his earlier estimate of three to five weeks.
While repairs are expected to remain ongoing for months, a statement from the governor's office said the California Department of Transportation has determined all five lanes of traffic in both directions can safely reopen to passenger and commercial truck vehicles by next week. Newsome said this is possible because emergency crews are working 24 hours a day, seven days a week.
"By working together with our federal and local partners and making this a 24/7 operation, the state is on track to open the 10 before millions of Angelenos hit the road for Thanksgiving," said Newsome. "I'm grateful for the crews working around the clock to safely repair the 10 so we can get Los Angeles' traffic moving in days instead of weeks."
The I-10 carries some 300,000 vehicles a day through downtown LA.
Newsome's announcement said reopening the highway damaged Saturday night by a fire that covered some eight acres comes far ahead of schedule because of better-than-expected structural testing results, expedited debris removal, and close coordination between state, local, and federal government officials to safely expedite repairs.
As repairs continue over the coming months, the public should expect some temporary closures on occasional weekends and overnight, along with intermittent lane closures, according to Newsome's statement.
After testing samples and assessing damage from the site, state transportation officials determined the damage could be repaired without demolishing and rebuilding the 450-foot span of the freeway, which could have taken as much as 6 months. Union crews continue to work around the clock to shore up the support pillars damaged in the fire, which officials say was caused by an arsonist.