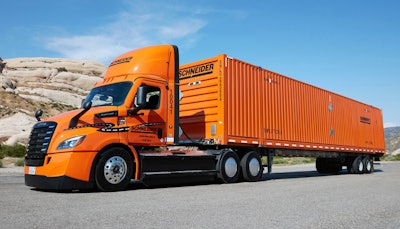 Schneider
Schneider National, Inc. recently announced the carrier's battery electric vehicle fleet has hit the milestone of hauling more than 1 million zero-emission miles of customer freight.
Schneider currently operates one of the largest BEV fleets in North America at the company's Southern California Intermodal Operations Center, featuring almost 100 Freightliner eCascadias and a major charging depot.
The carrier's first electric trucks began hauling customers' freight in January. Since then, the fleet has grown to a total of 94 electric vehicles, including 92 battery electric trucks and two electric yard spotters. The eCascadias have avoided approximately 3.3 million pounds of carbon dioxide emissions -– the equivalent of removing more than 330 gas-powered passenger vehicles from the road for a year.
"We are driven by our commitment to sustainability and innovation to be one of the first carriers to embrace electric as a powerful solution for hauling freight," said Schneider President and CEO Mark Rourke. "We believe in a future where clean technology helps transform the way we move goods and reduces our environmental footprint while still delivering on our promises of efficiency and reliability for customers. This milestone is just the first of many."
Ohio offers businesses tax credits for CDL training
Ohio Gov. Mike DeWine recently announced the launch of a new program to help alleviate the cost of commercial driver's license training for Ohio employers.
The Commercial Driver's License (CDL) Training Program will provide $3 million in tax credits to Ohio employers to support the upskilling of current and future employers in today's high-demand economy.
Employers of all sizes and industries registered to do business in Ohio and employ Ohio resident W-2 employees are eligible to apply. Employers can earn tax credits for half of the approved training costs, up to $25,000 in tax credits.
The tax credit applies to the training and/or credentialing of both current and prospective employees. Eligible training can be conducted by external training providers on the Ohio-approved CDL course provider list or qualified internal training instructors. Credentials must be for Class A or Class B state-issued CDLs.
The application and program guidelines are now available to view at development.ohio.gov/CDL. Applications are open until Dec. 1. Awards will be announced on or before Dec. 31. Applications will be accepted and awarded on a first-come, first-served basis.
Four trucks damaged by fire at college CDL program
Four tractor-trailers used in the CDL training program at Lake-Sumter State College were heavily damaged by fire recently.
The blaze occurred at the Florida college reportedly started Nov. 12 in one truck and quickly spread to the others that were parked nearby.
As a result of the fire, classes in the CDL program are on hold.
The state fire marshall does not believe foul play was involved.
The college is located about 43 miles northwest of Orlando.
ICYMI
Driver Poll: What are companies doing with drivers in the 65-70 year age range?
Federal agency recommends steps to limit the speeds of new cars
Strike ends as UAW workers approve new contract with Mack Trucks