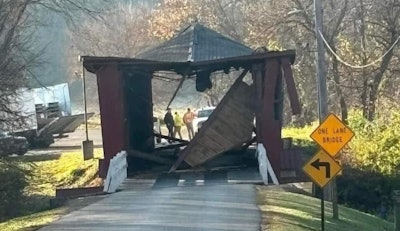 Bureau County Historical Society and History Center
A central Illinois covered bridge listed on the National Register of Historic Places was heavily damaged Thursday, Nov. 16, when it was struck by a tractor-trailer. The driver of the truck was reportedly fired by the company for which they drove.
The Red Covered Bridge is located on Illinois Route 26 north of Princeton, which is about 43 miles north of Peoria. The 149-foot-long bridge was built in 1863.
The truck involved in the crash was from Wynn Logistics, a small dry van carrier located in the Chicago suburb of Vernon Hillis. The company issued a statement apologizing for the crash and said the driver, who the company said has 11 years of experience, had been fired. The company also said it "will be collaborating with our insurance provider to facilitate the restoration of the bridge to its original state."
The trailer of the rig was heavily damaged in the incident.
Photos of the one-lane bridge show it has a sign warning of a low clearance of 11 feet 10 inches.