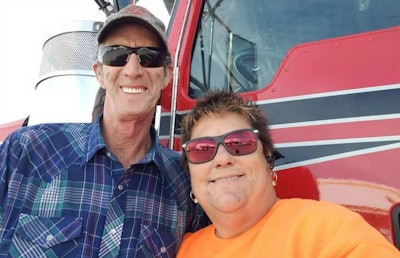 Carol Schneider fell in love with trucking as a child, even if it did come with a sometimes painful price.
Her father had 13 trucks, and she said, "I used to get in his dump truck and try to hide so I could go with him instead of school so I got a spanking nearly on a daily basis."
But, Schneider was undeterred. She's been driving for almost three decades, and today hauls commercial grade explosives and other hazmat products for the mining and construction industries. She runs 48 states, all providences of Canada and Mexico with her husband Phillip. The owner-operators from Joplin, Missouri, are leased to Fleenor Brothers.
For Schneider, driving has meant seeing places change and making new acquaintances.
"My favorite part is meeting the people. You meet someone new everyday. We've watched cities go from tumbleweeds to thriving cities," Schneider said. "We've watched the whole border be rebuilt and after 29 years, I still see something new everyday and I still learn something new everyday."
Schneider spent the first 11 years of her career hauling steel and aluminum. That job took a toll on her physically, so she started delivering produce with her husband. After a while, though, they decided they were looking for a bigger change and so they checked in with Fleenor Brothers. They've been hauling explosives and hazmat since.
After all these years and the many miles, Schneider has some advice for others interested in doing what she does.
"The main thing is to know your regulations,"Schneider said. "This is not like hauling anything else. One placard violation can cost you $10,000. There are four placards on the truck so if you get all four of them wrong you're automatically in $40,000 in fines."
Second, she recommends you learn about what you're hauling and study up on what the different classes of explosives are. Don't let the fact that you're hauling explosives distract you from what you're doing behind the wheel, Schneider warns.
"Don't think about it while you're driving. Don't sit and dwell on what you've got in your trailer because it'll play with you mentally," she said.
When she has some down time, Schneider likes to fish and cook.
When she and her husband have downtime together on the truck, they'll watch movies, brush their dog Star or clean their 2017 Kenworth W900 Icon. Their truck is custom painted in Viper red with jagged black stripes on the sides.
Their dog, a 55-pound standard poodle, has fur dyed to match the truck, which is named The General. That name is a nod to the couples' family military history.
Schneider says she would recommend trucking to anyone who loves it.
"It's either in your blood or it's not and it's definitely in my blood," she said.