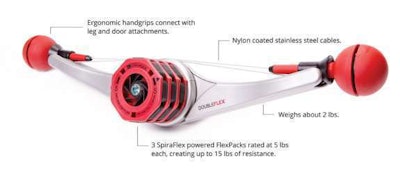 It's been a month and a half since you made that New Year's resolution to eat better, exercise more and all that other healthy stuff.
But, life got in the way.
What you really need is a gym you can take with you on the road, and that's what the makers of the DoubleFlex Black had in mind. Using the same technology that astronauts on the International Space Station used to keep in shape, the DoubleFlex Black combines strength and movement to give you a complete workout.
It can be used to strengthen your arms, legs, back and abs. But best of all, it weighs just two pounds and folds down for easy storage.
The DoubleFlex Black is wrapping up a Kickstarter campaign and will ship in June for $124. It comes with a DVD of suggested uses and nutrition information.