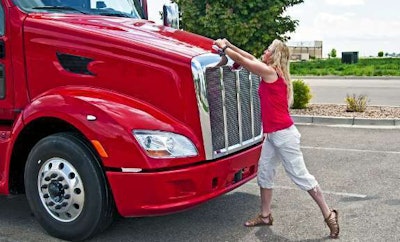 Here are four good reasons people go to their local YWCA:
Workout in the exercise room
Swim in the pool
Play basketball in the gym
Learn CPR and other first aid skills
Now you can add a fifth one if it happens to be the Metro Vancouver YWCA: Get your CDL.
The Vancouver Y has a program called the YWCA's Changing Gears, which receives funding from the federal and provincial governments. The goal is to increase the number of women in B.C.'s trucking industry.
The free, 23-week program is open to women on employment insurance (or returning from maternity leave) and incorporates on-the-road practice, as well as self-defense, and health and safety training. Changing Gears has partnerships with several local trucking companies to help grads find work. Six women received their Class 1 licenses after the program's first class in September.
The full course includes:
Class 1 Driver training and on-the-road practice (city and mountain)
Air-brake Certification
Class 1 Trucking Essential Skills Training
Group pre-trip course
National Safety Code (log books)
Defensive driving, extreme driving courses
Load securement – practical
Hauling freight, commercial driving courses
SMART Driver Course
Transportation of dangerous goods
Occupational First Aid Level I, WHMIS
Self-defense training
Health and wellness component
Job Search support and placement with local employers