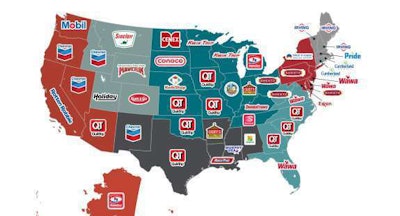 It's a fact of the truck driving life: after a few hundred miles on the road, you're going to need to to stop to use a bathroom.
Another fact is that many of facilities along the highway are located at gas stations, some of which appear to have rather relaxed outlooks on bathroom cleanliness.
The folks at Gas Buddy, an app that helps you locate low fuel prices, asked its users to help identify the gas station chains with the cleanest bathrooms. They posted 1.5 million reviews of more than 140,000 gas stations and travel plazas across the U.S.
Their state-by-state list of locations with three out of five star ratings for cleanliness includes:
Alaska – Holiday
Alabama – MAPCO
Arizona – QuikTrip
Arkansas – Casey's
California – Rotten Robbie
Colorado – Kum & Go
Connecticut – Cumberland Farms
DC – Exxon
Delaware – Wawa
Florida – Wawa
Georgia – QuikTrip
Hawaii – Chevron
Idaho – Chevron
Illinois – Kelley's Market
Indiana – Casey's
Iowa – QuikTrip
Kansas – QuikTrip
Kentucky – Thorntons
Louisiana – RaceTrac
Maine – Irving
Maryland – Sheetz
Massachusetts – Pride
Michigan – Holiday
Minnesota – KwikTrip
Mississippi – Murphy USA
Missouri – QuikTrip
Montana – Sinclair
Nebraska – Kwik Shop
Nevada – Chevron
New Hampshire – Irving
New Jersey – Wawa
New Mexico – Chevron
New York – Nice N' Easy
North Carolina – QuikTrip
North Dakota – Cenex
Ohio – Sheetz
Oklahoma – QuikTrip
Oregon – Chevron
Pennsylvania – Sheetz
Rhode Island – Cumberland Farms
South Carolina – QuikTrip
South Dakota – Conoco
Tennessee – Speedway
Texas – QuikTrip
Utah – Holiday Oil
Vermont – Irving
Virginia – Wawa
Washington – Mobil
West Virginia – Sheetz
Wisconsin – Kwik Trip
Wyoming – Maverik