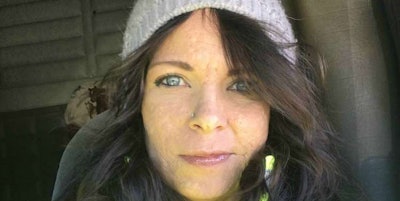 Owner-operator Rebekah Meadows is used to holding the reins, both in her 2006 Peterbilt 379 and in the horse show ring.
Meadows, of Henrico, Virginia, owns six American Saddlebred horses, all of which she trained herself, and a Hackney pony. She previously was a certified professional riding instructor, and competes regionally in rated and breed shows. Meadows shows in Western, Pleasure, Five-Gaited and Park classes.
"It's up there with the trucks. It's a part of me," Meadows said of horses. "I can't picture my life without them just like I can't picture my life not trucking."
She's drawn to Saddlebreds, known as the "Horse America Made," because of their versatility. She's worked with other breeds, but she always comes back to Saddlebreds.
"They're super intelligent and they're noble," said Meadows. "They're a very proud breed. They're very high-headed, a lot of motion and they have a lot of knee action. They step really high and it's natural for the horse. I've never been around a breed like them."
Meadows said they also make great family horses and she likes being able to share them with her husband, Jason, and their five daughters.
Meadows is a supporter of the Team American Saddlebreds rescue league and one of her horses was rescued after being found emaciated with about 100 other horses. The rescue league reached out to her to foster the horse, who goes by the barn name Sunny, because Meadows lived close by.
"I immediately agreed and went and picked her up. At the time she was barely two years old; beautiful filly. She was so emaciated at the time she couldn't get up to eat. She was laying down with a round bale of hey, she was so weak," Meadows said.
She's been working with Sunny and was able to get a DNA sample and get the filly's registration papers. When Meadows got in touch with the owner who bred Sunny, she learned she was from world champion stock.
"She's going on to be a show horse. She's healthy, she's beautiful, and she's going back into training soon," Meadows said. "She should hit the show ring by next spring."
Meadows balances her love for horses with her love for trucking. She's leased with J. Grady Randolph, a Daseke company based in Gaffney, South Carolina, where she's the only woman in the fleet and hauls all oversized/specialized loads on a dedicated route.
Meadows said she was first introduced to trucking when she started driving a hay truck on a horse farm when she was a teenager.
"They started letting me bob around in what we called our hay truck. It was an old GMC and it had two sticks in it and I drove that in the hay fields as we were loading our hay," Meadows said.
She got her CDL in 2002 and went to work trucking that same day.
Meadows said she likes hauling specialized loads because of the challenge.
"It's just awesome," she said. "I'm fascinated by the bigger loads and the quirky loads and the sideways, slanted loads. I get so excited and I turn into a 12-year-old all excited about a new toy, that's how I look at it."
The work she does is very physical and demanding, but she said the respect she receives for it is unmatched.
"One of the biggest pros though is the respect level. We do get a lot more respect out here," Meadows said.