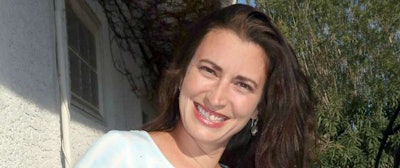 Stephanie Roberts knows how to mix a good drink. The company driver, from Lewisville, Texas, worked 20 years in Las Vegas bars and restaurants before transitioning into trucking.
When she was living in Las Vegas she was a bartender and her husband, Frank, was a deejay. The bar business, Roberts said, is appearance-based. With most jobs, the more experience you get, the more money you make. In Las Vegas bars, however, it's all about maintaining a certain image.
"Vegas is 1,000 percent appearance based," Roberts said. "Depending on the bar, the nightclub or even the property you get a job at, women are not hired as bartenders. They are hired as modeling bartenders. They have to sign a modeling contract so if they gain weight, they can be fired. If they don't wear the right type of makeup, they can be fired."
While Roberts loved the bar business, it had started to grate on her, and she started looking for new opportunities. A friend of Frank's was a truck driver and suggested it to them, and Stephanie and Frank decided to give it a try. She started driving in 2014. Today, she and her husband are company drivers for a fleet owner leased with FedEx Custom Critical hauling expedited freight over the road.
Her experience in customer service has helped her trucking career, particularly with helping solve customers' problems.
"When a customer's upset about something you just smile and let them vent and you listen to their words and then they tell you what the problem is. Okay, now that I know what your problem is I can help solve it," Roberts said. "If you try to interrupt, if you try to ask questions, a lot of times they just get upset. So you just sit there and you listen. They tell you what their problem is and most of the time they tell you how they want you to solve it."
Stephanie's favorite thing about trucking is the movement, she said. Because they haul expedited, she and Frank have more down time than most truckers and can do a lot of exploring.
"There's always something different," she said.
They have a lot of travel books that highlight different areas they may want to visit. For other drivers who want to explore more while they're over the road, she recommends doing some research. Figure out what it is that you like to do, she said, and if you read or hear about something you like, write it down.
"I have a bucket book. Normal people have a bucket list, but I have a bucket book," Stephanie said.