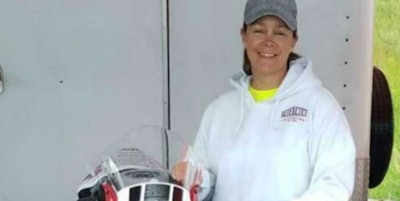 When Christine Treviranus, of Hawthorne, Wisconsin, was in grade school, her teacher passed out an assignment asking her what she wanted to be when she grew up. Treviranus, without hesitation, wrote "truck driver." She appreciated how truckers seemed like one big family.
"Back when I was little, you always saw convoys and truckers hanging together and back then it was just like a big family. People took the time to take care of each other, and I always thought it was so cool," Treviranus said.
Her father was a trucker and her future husband, Tom, would be one too. Treviranus, however, decided to postpone her own trucking dreams in order to fulfill the biggest job of all: being a mom to five kids. It didn't seem feasible for both of them to be drivers while their children were so young, so Treviranus stayed home with them.
When her youngest was in high school, it was time for Treviranus to get a CDL. She and her husband decided if she could find a way to pay for trucking school, then she could start her trucking career. Treviranus reached out to a local state employment office and learned they were offering grants to individuals who had never worked before to get them into the workforce. The state paid for Treviranus' trucking school and she got her CDL in 2011.
Right out of the gate, Treviranus knew she wanted to be a tanker driver. She started out as a company driver and now she hauls a tank with her 1985 Peterbilt 359 as a leased owner-operator. She hauls anything you can put in a tanker: asphalt, blasting agents, water.
"When I first started, I would watch and pay attention to what everyone was doing and back then there weren't that many women hauling tankers so I thought you know what, that's what I want to do," Treviranus said.
Being an owner-operator keeps her pretty busy, but when she has enough downtime at home she volunteers as a volunteer firefighter and first responder. She says it's hit or miss, though, because of her busy schedule.
"I did that and I was actually a part of the Douglas County Sheriff Rescue Squad where you are searching for people or saving people from rivers or lakes or floods. I was hooked. It makes you feel pretty cool when you can save somebody's life," Treviranus said.
She can also often be found at the race track. She doesn't race but her husband and youngest son both race motorcycles. When her youngest son started racing they actually had to petition for him to be allowed to participate because of his age.
"Their rule was if he doesn't crash, we'll let him race. So for one whole weekend we were on pins and needles hoping he wouldn't crash, and he didn't crash and we've been hooked ever since," Treviranus said.
She also likes to sew and crochet and donates what she makes to different charities.
"I've lived a pretty amazing life and now I just feel so special to be able to be driving and seeing everything that I get to see out there," Treviranus said.