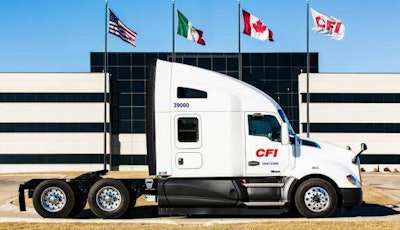 A Texas woman who has been driving for 10 years was among five veteran drivers honored by a leading truckload carrier for their millions of miles of safe driving.
Joplin, Missouri-based CFI recognized two drivers for reaching 2 million and three drivers for reaching 1 million safely driven consecutive miles during their careers with the company.
Veronique Boyd was recognized for surpassing the 1 million mile mark. Boyd began her professional driving career with CFI in 2007 after previously working in the landscape irrigation industry. Boyd resides in Kyle, Texas, and enjoys studying the Bible and training for marathons.
In order to be named to CFI's Million Mile Safe Drivers program, drivers must have a consecutively spotless safety record on the road. An accident of any form, even if the driver is not at fault, will reset their safety mileage count. CFI recognized the drivers during an awards ceremony held recently at its headquarters recently.
Drivers with 2 million safe miles include Danny Robinson of El Paso, Texas and Armando Rodriguez also of El Paso.
The other drivers with 1 million safe miles include Russel Cocheu of El Paso, Texas and Jim Rhodes of Pace, Florida.
"Road conditions, other drivers' actions and weather are just a few of the obstacles our drivers face on the road every day," said Tim Staroba, president of CFI. "We couldn't be prouder of our recent class of one- and two-million milers. Their dedication to safety is something to be admired and we are grateful that they represent CFI."
CFI has a fleet of 2,400 company tractors and 7,000 trailers in addition to an independent contractor fleet.