This has been a bust summer for some of this country's major trucking companies. There have been several major purchases and the creation of opportunities for some drivers. Here are a few of the most recent ones.
Central Freight creates new division for o/o
Texas-based Central Freight Lines has announced the creation of a new division for owner-operator teams called the Expedited Elite Fleet.
To fill the team spots in this new division, the company is contracting team drivers in Fontana, California; Houston; Atlanta; and Orlando, Florida.
"Central Freight Lines is excited to expand our fleet to add this new division for owner operator teams," said Betsy Waldrop, recruiting director for Central Freight Lines. "We're pairing a pay increase and excellent miles with solid freight lanes drivers can rely on."
Teams in the new division will earn $1.15 base pay plus fuel surcharge. They can also expect dedicated lanes, terminal-to-terminal runs, two coast-to-coast options, and 5,000 miles or more per week.
Interested owner-operators must be at least 23 years old, have a minimum of one year OTR tractor-trailer driving experience and have a valid Class A CDL with Hazmat, doubles/triples and tanker endorsements.
Central Freight Lines is a less-than-truckload carrier based in based in Waco, Texas.
Daseke expands its flock once again
Texas-based Daseke, Inc. today announced a merger that adds the Steelman Companies to the Daseke group of companies.
The Steelman Companies generated about $46 million in revenue in 2016.
Operating throughout the Midwest, the 26-year-old Steelman Companies has two distinct areas of expertise. Steelman Transportation carries flatbed and heavy haul freight, while Group One specializes in transporting roll-on powersports and industrial warehousing as well as offering 10-wheel drive-away services, according to a statement from Daseke.
"The ability to work with the rest of the fantastic companies in the Daseke family, share customers and develop synergies and efficiencies were all major attractions to joining Daseke," said Jim Towery, president and CEO of the Steelman Companies. "To move forward, you must have pride in what you're doing, and we're definitely proud to be moving forward as a member of the Daseke family."
Daseke, Inc. is comprised of 12 operating companies with over 3,600 trucks and over 7,500 flatbed and specialized trailers. The Daseke family of companies includes Smokey Point Distributing, E.W. Wylie, J. Grady Randolph, Central Oregon Truck Company, Lone Star Transportation, Bulldog Hiway Express, Hornady Transportation, The Boyd Companies (including Boyd Bros. Transportation and WTI Transport), The Schilli Companies, Big Freight Systems and The Steelman Companies.
Heartland Express purchases Interstate Distributor
Heartland Express, announced Thursday it had acquired 100 percent of the outstanding stock of Tacoma, Washington-based Interstate Distributor Co. from Saltchuk Resources.
The transaction cost a reported $113 million.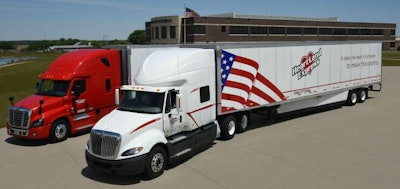 Michael Gerdin, chairman, president and CEO of Heartland, which is located in North Liberty, Iowa, said IDC's truckload business generated about $325 million in total revenue in 2016.
He said IDC's Tacoma headquarters and national terminal network overlap with many existing Heartland locations and will be consolidated in the future.
In a statement issued by Heartland, Gerdin said, "We are excited to add IDC's high quality drivers, experienced personnel, and strong customer base to Heartland's operations. IDC is an excellent operational fit, as its terminal network has nearly direct overlap with our current locations. Heartland will gain significant additional traffic density in the West, and our stronger eastern network will improve service for IDC's customers in the East."
IDC was founded in 1933 and provides primarily dry van truckload services, including local, regional, dedicated, and transcontinental services in western and southeastern U.S. Its fleet includes about 1,350 company tractors, 220 tractors supplied by independent contractors, and 4,700 trailers.
The company tractors have an average age of approximately 3.0 years, and the trailers have an average age of approximately 7.5 years, according to a statement from Heartland. Heartland said it expects to invest in "refreshing" IDC's fleet.