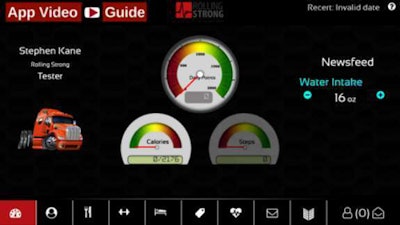 A new app from Rolling Strong delivers health and wellness tips to drivers. Available for both iOS and Android devices, the app's features include:
Nutrition guidance including meal suggestions and predictive nutrition based on location, truck stop, restaurant and food item search capabilities, as well as daily food logging with calorie counts and targets

Exercise programs with guided workout routines, designed to be done anywhere without the need for a gym, based on personalized preferences with duration and intensity choices, and daily step tracking with an integrated wearable activity tracker

Sleep time and pattern tracking with an integrated wearable activity tracker, and CPAP integration

Personal health records including biometric data from physicians, wellness coaches or health check stations

DOT certification reminders when medical evaluations are due and when medical certificates need to be renewed

The ability to connect with a wellness coach
To help encourage drivers to use the new Rolling Strong app they can also earn points for logging sleep, exercising and meeting daily calorie goals. Fleets can use the app to create and manage interactive competitions. Points earned by drivers can be redeemed at a growing network of partners, such as truck stop operators.