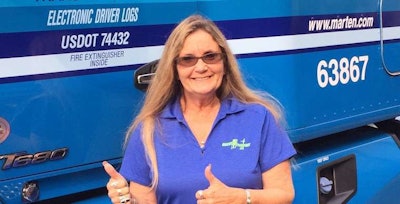 Janis Dunn, 63, spent about 25 years as an accountant before she just couldn't do it anymore. She'd grown tired of sitting in an office all day surrounded by office politics.
She was working constantly, giving her minimum time with her family. So Dunn, from St. Louis, left that job and took a few years off from. During that time she met a couple over-the-road drivers and decided to pursue a trucking career of her own. She's been driving for the last 20 years, and now is a company driver with Marten Transport, hauling mostly hazmat.
"When I was in accounting, I worked 70 hours a week. I brought my work home with me. I was always in the ledgers trying to balance them and I prepared financial statements for stockholders. It was a really intense job. It paid really well, but I worked constantly," Dunn said. "This job right here, I can step away from."
Trucking lets Dunn spend more time with her grandkids, Jaycee, 18, and Evan, 23. She was close to her grandparents growing up, and she wants to continue that legacy with her own grandkids. Each year for the last 20 years, she has arranged to take them on a vacation to a new place. She recently took them to Europe for three weeks in June.
"Being a truck driver, the way I've been able to tap into it, has just allowed me to do so many things I didn't think would ever be possible," Dunn said.
She can request home time anywhere in the country. If there's a concert she wants to see or if her grandkids want to meet her somewhere, she can request home time for the particular city and get paid to drive her truck there.
"I thought that this would tie me up a lot but I've been doing so well with Marten that it's allowed me to spend a lot more time with my grandkids and family," Dunn said.
When Dunn has down time, she enjoys driving her sports cars. She always owned a fast car when she was in accounting, and she now owns a bright blue 2014 Mustang and a purple 2017 Challenger. She also helps out at her son's animal shelter when she can, helping the adoptable animals find homes.
Dunn said she feels women can accomplish a lot in the trucking industry. It's a good opportunity for all women, she says, but especially women looking at starting their second career or who are at a crossroads, since they can get into trucking at any age.
"I think it's a really good, solid career switch to be your own boss. You can make your own schedule. It's just nice not having anyone breathing down your neck," Dunn said. "For me, it's been a really comfortable time to reflect on my life the last 20 years. It's been a really good switch for me. All I have to worry about is myself."