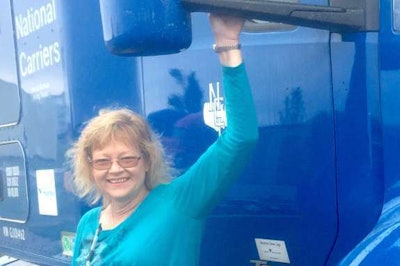 A former airline flight attendant turned trucker was named Driver of the Month for August at National Carriers, Inc.
Dawn Roberts, who is a company driver for National Carriers' Southwest Regional Fleet, previously was a team flatbed driver for another company. She joined National Carriers, took time off to care for an ill sister, and then returned.
"The first time I saw National Carriers trucks I was impressed," said Roberts. "I thought to myself that someday I would drive for them. Once my sister's situation was resolved I called National and was delighted when they rehired me. I enjoy driving trucks and the automatic transmission in my current Kenworth is a great thing. I've worked in the airline business and the oilfield business, but once I decided driving Class A trucks was what I wanted to do, I grew into being a truck driver."
"When our driver of the month selection committee called Dawn to notify her that she had been selected, her reaction was precious," said Safety Director Jill Maschmeier. "She was starting to tear up from joy and surprise. The shock and disbelief in her voice was priceless. She is a humble person who does an exceptional job every day and our committee was pleased to name her as driver of the month."
A resident of Houma, Louisiana, she is now a finalist for National Carriers, Inc. Driver of the Year to be announced in April. Each Driver of the Month receives a $500 bonus, and the driver of the year wins $5,000.